Top 10 six-hitters in ODI history

Wisden India
02-06-2017
Take a look at the list of batsmen with most sixes in ODIs.
Shahid Afridi, Pakistan (351)
In the recent past, Shahid Afridi has made headlines more for his bowling than his batting. But the allrounder, now 35, once tormented bowlers around the world with his explosive hitting, and still holds the record for hitting the most number of sixes in ODI history.

From the 398 ODIs he played in, Afridi has 8064 runs at a rather low average of 23.57, but his career strike rate of 117 shows how he earned the nickname 'Boom-Boom'.
Sanath Jayasuriya, Sri Lanka (270)
Afridi is followed Sri Lanka's Sanath Jayasuriya, the left-handed opener who consistently wreaked havoc in opposition camps, especially in the mid-1990s, as Romesh Kaluwitharana and he redefined top-order batting in the format. Overall, Jayasuriya hit 270 sixes in 445 matches, amassing 13,430 runs at an average of 32.36.
Chris Gayle, West Indies (238)
Among the active players in this list – Afridi only plays Twenty20 Internationals now – Chris Gayle, the big West Indies opener, is ranked the highest, with 238 sixes in his 269 matches so far. Gayle, probably the most exciting hitter in the game, has 9221 runs at an average of 37.33 at the moment.
Mahendra Singh Dhoni, India (204)
Mahendra Singh Dhoni, the former India captain has hit the ball out of the park 204 times in his 286 ODIs so far. Dhoni, who has 9275 runs at an average of 50.96, jumped ahead of McCullum during India's three-match ODI series against England at the start of 2017.
Brendon McCullum, New Zealand (200)
Brendon McCullum, one of the most dangerous top-order batsmen in the international arena, features, expectedly, in this list with 200 sixes from 260 matches. The former New Zealand captain has a total of 6083 runs at an average of 30.41 in his ODI career.
Sachin Tendulkar, India (195)

Sachin Tendulkar, who holds the record for most runs in ODI cricket, is sixth in the list with 195 sixes in 463 matches. Tendulkar scored 18,426 runs at an average of 44.83 before retiring from the format in 2012.
AB de Villiers, South Africa (194)
AB de Villiers, the South Africa ODI captain, has made a name for himself with his fantastic ability to improvise in limited-overs cricket. De Villiers, who has played 219 ODIs and scored 9299 runs at an average of 54.38 to date, is one of the most feared batsmen in modern-day cricket.
Sourav Ganguly, India (190)
Prince of Kolkata Sourav Ganguly, who has now slipped to eighth in the list, played 311 matches in which he scored 11,363 runs at an average of 41.02.
Ricky Ponting, Australia (162)
Ricky Ponting, who played ODI cricket from 1995 to 2012, hit 162 sixes in his 375-match career, and scored 13,704 runs at an average of 42.03, standing head and shoulders over the other Australian big hitters.
Chris Cairns, New Zealand (153)
Chris Cairns, the New Zealander who played 251 ODIs between 1991 and 2006, was known for his clean hitting in the middle order. A genuine allrounder, Cairns also ended with 201 ODI wickets, making his 4950 runs at 29.46 that much more impressive.
Slideshow: Cricket world records you must know about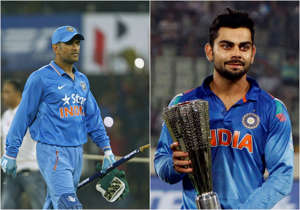 Watch: Root century helps England ease to opening win
(Video provided by Perform)