Top 5 cricket games on Windows Store
Experience the best cricket games from around the world. It is fun to play these games as they offer a real life gaming experience.
Cricket 3D World Street Challenge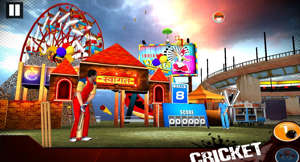 Grab the helmet, tighten those pads and pull up your socks for some deadly strokes and shots in this Cricket 3D - World Street Cricket game! The realistic graphics and animation makes the game pretty addictive and guarantees hours of entertainment!
This ultimate cricket game comes with over 80 challenging levels where each level has its own objectives to achieve by swiping and tossing the ball.
What's in the game?
- Play against 3 Countries (South Africa,West Indies & India)
- Choose your own favorite Jersey
- Unlock 4 different types of bats
- Spin the wheel to earn free coins
- Score from bonus items (parachutes, lanterns etc)
- Dynamic graphics/animation and sound effects
Get ready to play the most popular game in the world…Download for FREE and go on to be the cricket champion of your gully!

Get the Cricket 3D World Street Challenge app here >>
___________________________________________________________________________________________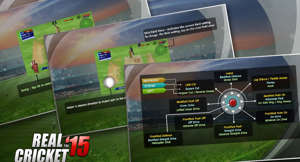 Welcome to the most authentic, complete and surreal Cricket experience for Windows Smartphones - Real Cricket 2015.
- Choose from 16 nations and 8 master teams consisting of legends of the limited over game.
- Simple and intuitive controls that compel you enjoy the game with ease.
- Amazing and unique hand drawn graphics
- Scintillating 2D Motion Captured animations
- Authentic Cricket equipment provided by legendary manufacturers – Gray-Nicolls and SS Cricket
- Full user control on team selection, batting and bowling order, 15 fields placements to choose from and much more
- Real Cricket 2015 provides with Diverse modes, Exhibition, Tournaments such as T20 World Cup, Masters Cup and Knockout Cup. Polish your skills in the Nets.
Never seen before game modes, unique and striking art styles, An arsenal of 27 cricket shots, real ball physics. Download because for a cricket fan – it's time to get real- Download Real Cricket 15.
Get the Real Cricket 15 app here >>
__________________________________________________________________________________________

World Cricket Championship Pro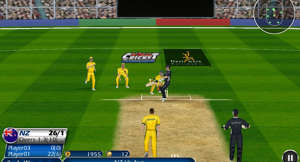 'World Cricket Championship' is a pack of three of the most exciting cricket games in the world:
World Cricket Championship
World Premier League
Fantasy Cricket League
Highly entertaining, with rich visuals, realistic animation and crisp camera movements....the games will transport you into the arena of international cricket. If you are in the mood for some mischievous fun, then Fantasy Cricket League will give you plenty of opportunities to vent your devilish streaks! So, whichever game you choose to play, the thrills, fun, and high voltage dramas are guaranteed!
Features:
- Tournament and Quick Play modes
- Challenge a Friend: asynchronous Multiplayer mode
- Create your own team: add your friends
- Components like 'Power-ups' in Fantasy Cricket League. Can be purchased using points collected in all the three games
- High quality graphics and 3D characters
- Multiple camera set-ups and follow through camera movements
- Ultra slow motion shots for massive sixes
- Action Replay On/Off
- Professional commentary
Get the World Cricket Championship Pro app here >>
_________________________________________________________________________________________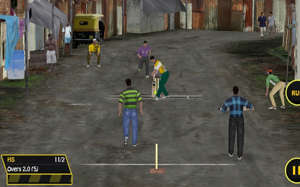 The rough play, the dust, the nostalgia of cricket in your own gully; that is what Street Cricket is all about! 
Overs:
- You can play 5, 10, 15, 20, 25, or 30 over match.
- 5 over and one venue is FREE, additional two venues and more overs available as in-app purchase (USD 2.99).
- Toss: By winning the toss you have the option to bat or bowl first.
Your Team:
There are five players to a team. Batsmen are predefined but you can select your bowlers from the players available. After finishing one game you can start another.
How to Score:
You can score single runs by running between the wicket If you hit over the building you score 2 runs If you hit the wall you score 1 run.
Get the Street Cricket app here >>
__________________________________________________________________________________________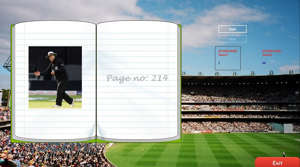 A time-pass game played in school involving a large book being opened randomly, and artificial cricket scores constructed through a sequence of rules. The page numbers opened, along with other pre-determined rules (one such rule often involves the final digit of the page number, which may symbolize various outcomes), help define the outcome of the game.
Features
- You can enjoy a cricket without being bore
- No need to know all rules of cricket
- No need t remember control keys
- Easy to play
Get the Book Cricket app here >>