Trash talk: Controversial words from Rio 2016

Photos
23-08-2016
Some athletes are known to be very competitive, but sometimes competition can turn into a serious rivalry. Read through to hear more about some major controversial statements from the Rio Olympics. 

"I think it's sad that we have people in sports today who are testing positive not only once, but twice, and still having the opportunity to swim at these Games." - Michael Phelps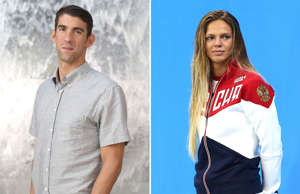 Commenting on the issue of allowing Russian swimmer Yuliya Efimova to compete in the Olympics in spite of failing dope tests, US swimmer Michael Phelps said the above, adding, "It breaks my heart and I wish somebody would do something about it."
Efimova defended herself by saying that her situation is no different from that of Phelps', who stirred up a similar controversy when he was photographed holding a marijuana pipe in 2009. As a result, he was suspended for three months.
Efimova went on to win two silver medals in the 100m and 200m breaststroke finals in this year's Olympics.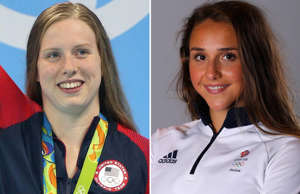 Phelps wasn't the only one who have commented on Efimova's drug controversy. American swimmer Lilly King (L) and Great Britain's Chloe Tutton (R) also joined in on separate occassions.
Tutton, who finished fourth in the 200m breaststroke final, said, "You know being fourth is a little gutty but I would like it to be completely clean."
There has been a war of sorts between United States' Lilly King and Russia's Yulia Efimova
Efimova was also in a rivalry of sorts with King, when both of them took turns wagging fingers at each other after finishing their 100m breaststroke race. It all started when King waved her index finger after she posted the fastest time at the preliminaries. In response Efimova, the defending champion, responded by signaling 'No.1' after she won the first semi-final. King, not to be left behind, waved her finger after she won she won the second one. King said, "You know, you're shaking your finger No. 1 and you've been caught for drug cheating. I'm just not, you know, not a fan."
"In 1936, the (Nazi Germany) crowd was against Jesse Owens. We've not seen this since. We have to deal with it." - Renaud Lavillenie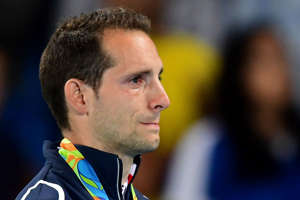 French pole vaulter Renaud Lavillenie said the above after he was booed by the Brazillian audience while he was participating at the men's pole vault final on Aug. 16.
Lavillenie competed against Brazil's Thiago Braz da Silva at the men's pole vault final. As he attempted his jump, the crowd jeered and whistled to rattle his attention. Shaken by the reaction, he said, "I'm a bit disappointed, (it was) not fair play from the stadium. You see it in football. It is the first time I have seen it in track and field."
He also made the above statement, where he referred to American athlete Jesse Owens, who won gold in the 100m, 200m, 4x100m relay and long jump events at the 1936 Berlin Olympics. Owens didn't win too much support from the crowd, and he was not congratulated by Adolf Hitler back then.
Lavillenie later expressed an apology on Twitter, saying, "Yes, sorry for the bad comparison I made. It was a hot reaction and I realize it was wrong. Sorry to everyone." This didn't win any brownie points with the Brazilian spectators who continued to jeer him at the medal ceremony the next day, where Lavillenie broke down and cried on the podium (pictured above).
"I don't even know who Lilly King is."- Justin Gatlin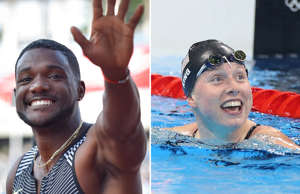 After making remarks about Russian swimmer Yulia Efimova for doping, 19 year old Lilly King commented that after two suspensions related to doping, Justin Gatlin (L) should not be competing in the U.S. Men's Track and Field team. The swimmer said, "Do I think people who have been caught for doping offenses should be on the team? No, I don't." Gatlin responded to the swimmers comment by saying, "I don't even know who Lilly King is." The 34 year old also said, "I have worked hard just like everybody else, and I get tested like everybody else, and I am back here. I believe in the system."
"We played a bunch of cowards. The best team did not win today. I strongly, firmly believe that."- Hope Solo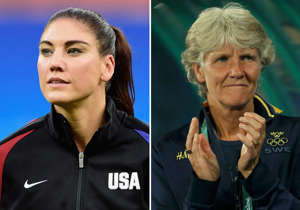 © Bruno Zanardo/Getty Images; Gonzalo Fuentes/Reuters
During the quarterfinal game, the American soccer team were eliminated by Sweden on penalty kicks after the match ended in a 1-1 draw. Unable to accept defeat, goalkeeper Hope Solo verbally lashed out at Sweden. She also said, "We played a creative game. We had many opportunities on goal. We showed a lot of heart. We came back from a goal down. I'm very proud of this team." Swedish coach and former U.S. national team coach Pia Sundhage replied sternly, "According to Hope Solo, I think you should define what is a good team. Well, usually – especially with the Americans – a good team is when they're winning. And they're winning all the time. That's the best team in the world. But for once they didn't go the whole way through."

There were no bitter statements exchanged between the two swimmers, but their body language spoke volumes. The le Clos-Phelps rivalry that began at the 2012 Olympic Games has reached new levels this year at Rio. While Phelps was caught staring daggers at le Clos (L) minutes before the start of the 200m butterfly semi-finals, le Clos returned the favor by shadow boxing with Phelps and then doing a little dance in his face. Phelps facial expression spawned the now infamous hashtag #phelpsface.
"He kind of desensitized from it. Sun Yang is just the drug cheat"- Mack Horton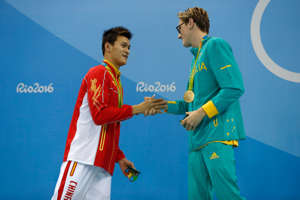 Australian swimmer Mack Horton (R) stirred up controversy when he labelled 20-year old Chinese rival Sun Yang (L) a "drug cheat" after beating him for gold in the 400m freestyle category. Horton did not shy away from his statement, saying that it was justified since Yang had served a doping ban in secret in 2014. This is after Yang reportedly tried to 'taunt' Horton in the training pool last week.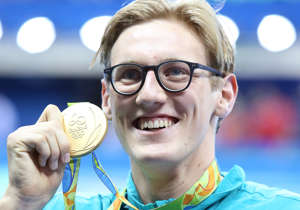 "In many serious essays written by Westerners, Australia is mentioned as a country at the fringes of civilization. This suggests that no one should be surprised at uncivilized acts emanating from the country." – The Global Times, China
Not to be left behind, Chinese state-run media and viewers have blasted Australia's gold medal-winning swimmer Mack Horton for his 'cynical smugness,' even going on to say that he was 'immoral' and his nation was a former 'offshore prison.' Despite his drug-abuse history, Sun Yang remains a hero of his people. One Chinese fan went on to say about Horton, "You even won the match, but you are still a loser, you don't deserve to have an Olympic gold medal."
"As an out gay athlete from a country that is still very homophobic, @thedailybeast ought to be ashamed #deplorable"- Amini Fonua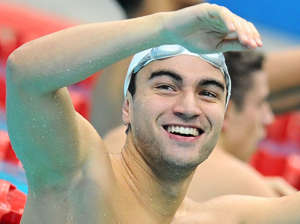 Tongan competitive swimmer Amini Fonua lashed out at news website "The Daily Beast" in a series of furious tweets for their article that exposed athletes using the hook-up app Grindr. The article titled "The Other Olympic Sport in Rio: Swiping" exposed the identities of many gay athletes at Rio who had yet not come out. Hailing from a country where being gay is still illegal, the Olympian accused the website of "endangering people's lives" by publishing an article that was in extremely bad taste and insensitive. "The Daily Beast" later removed the article and acknowledged that it had "screwed up."
"Olê, Olê, Olê, Olá — Zika! Zika!"- Brazilian spectators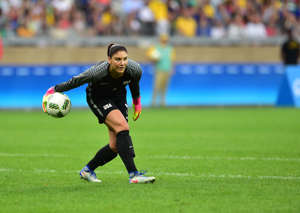 This Olympics definitely seem to be the game of controversies with each country vying for the top spot in creating a scandal. American goalkeeper Hope Solo was heavily booed by the Brazilian crowd every time she came to play on the field at Team USA's opening match against New Zealand. This was in response to the photos that she had posted on social media that showed her dressed up with an anti-mosquito hat and holding a bottle of insect repellent, a jab at Brazil's Zika virus crisis. These pictures did not go down well with the Brazilians. 
"It is those actions that make people wonder why we've lost faith in the system."- Geoff Huegill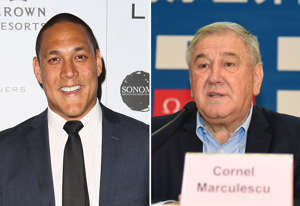 Former Australian world swimming champion Geoff Huegill (L) came down heavily on FINA executive chairman Cornel Marculescu (R), who opened a can of worms when he embraced controversial Chinese swimmer Sun Yang after his 200m freestyle medal ceremony. Marculescu has been criticized in the past for his soft stance on drug cheats.
"In the Olympic Games, usually all wars stop, but now they can't find a way to beat Russia and now they try to make use of athletes."- Yulia Efimova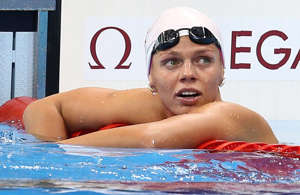 Russian swimmer Yulia Efimova who has been on the receiving end of a lot of criticism from fellow athletes and viewers, reacted to the finger-wagging and boos that she has been getting. While claiming that she stopped using meldonium before it was banned, the Russian said that this was all a part of a new propaganda war, a new Cold war of sorts that was using the drug abuse scandals to make villains out of the Russian athletes. 
"He was not a top athlete. Maybe he was lucky.'' - Georgii Zantaraia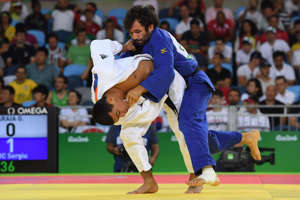 There are some smug winners, and then there are some bad losers. Former world judo champion Georgii Zantaraia (L) of Ukraine was not very happy after losing to Sergiu Oleinic (R) of Portugal in their 66-kg match and lashed out at his opponent with his words.