Unfortunately, we don't have a Virat Kohli: Rahim

Wisden India
14-02-2017
Virat Kohli was "not surprised at all" at the stomach for a fight Bangladesh showcased over five days in Hyderabad, especially with the bat. "If you play basic cricket, you can score runs on this kind of wicket. I didn't expect them to get out for 200-250 runs. They do have good batsmen in their ranks," he pointed out.
That sentiment was shared with Mushfiqur Rahim soon after India won the one-off Test in Hyderabad by 208 runs on Monday (February 13), and Rahim, whose 127 in the first dig was the best of the Bangladeshis' efforts, laughed at the use of the word 'basic'.
"If we knew Virat Kohli's basics, we would average more than 50, and we wouldn't have needed so many batsmen. We could have drawn the game with four batsmen. Unfortunately, our team doesn't have a Virat Kohli," he said only half-jokingly.
Photos: 'Unique' world records held by Indian cricketers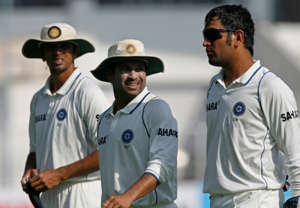 The way Rahim got out in the second innings, hitting out at R Ashwin a ball after he had driven one for four and miscuing to cover to be out caught, was totally in contrast with the way he had batted in the first innings. Then, he had a couple of brain-freezes and attempted suicidal runs, but was outstanding otherwise. In the second dig, he seemed desperate to get on top of the bowling, especially Ashwin, in a hurry, and ended up falling to a rash shot.
"You cannot win or force a draw just by defending. Shakib (Al Hasan) didn't try to hit a single ball but he still got out. I didn't play a single bad ball in the first innings. It is hard to tell how someone will get out. Many people can say the shot (in the second) should have been played a certain way, but a batsman has to score runs. When he picks up runs, the bowler is under pressure. It becomes hard when a bowler knows you are just going to defend," argued Rahim.
"Although it was not a typical Day 5 wicket in Indian conditions, there were rough spots outside offstump for both right and left-handers. Ashwin was bowling the same line and the ball was flying in the close-in region. I needed to disturb the length and I missed the line. The shot was on but I just didn't execute. Two-three overs earlier, I played a reverse sweep to (Ravindra) Jadeja and I connected really well. Had I connected this time, they would have pushed mid-off and mid-on back. Perhaps had I played three-four more overs, I could have got set against Ashwin. This is a learning curve for me and I would take this lesson along."
---
---
The trip to India, for the first time ever for a Test match, was about lessons for Bangladesh in many different ways. And they should be proud of the way they went about their business with a bowling attack – bar Shakib – with a combined experience of 25 Tests. 

Rahim summed up the plusses and minuses of the five days thus: "We lost wickets at the wrong time today. The first two hours were very important for us. First Shakib and then I got out. (Mahmudullah) Riyad and Sabbir (Rahman) did well till lunch. Our plan was to take the game to the tea break. But we all got out before that time.
"They (India) know how to bowl on the fifth day, which is why they are the No. 1 Test side. It was a lesson for us in conditions where we don't play often enough. Most of our matches end on the third or fourth day. It feels bad that we lost but we should take home some of the more positive points. Everyone tried to play basic cricket. Shakib got out. Riyad had no fault in his dismissal. Sabbir missed the line. Rather than picking on the mistakes, we need to work on how we can play for longer periods in these conditions."
The next few months should give everyone a good idea as to whether the lessons have been learnt or not, as Bangladesh have Tests lined up against Sri Lanka, South Africa, Australia and Pakistan. "In Test cricket, you need to be consistent over five days. The last five-six years, the trend was that we played one Test well and then another good show came up after eight-ten games," pointed out Rahim. "Now at least we have been playing every Test a little better. One step ahead, we need to play one more day well. In New Zealand and India, we have played well over three days; here also, we played well for four days. The more we play, we get more experience and deliver more."
Rahim also voiced another ambition – that of playing one more Test in India before he calls it quits. "I want to play another Test here before I retire. We learnt a lot playing the No. 1 team in the world. We didn't play too badly. If they invite us again, we will try to play better and hopefully get good results."