Up and down the hill of life with Yuvraj Singh

Wisden India
04-12-2015
There are three hills within a stone's throw of the NPR Cricket Ground in Natham. They are no more than 500 metres high but they still make for a beautiful view, especially when the rain clouds descend. Otherwise, the hills bask in whatever little sun is beating down on them and manage to captivate whoever cares to look their way.
No surprise then, that Yuvraj Singh, who had his eyes on the hills for most part of this conversation, picked one of those hills to summarise his career as a cricketer.
"You see that mountain there?" he asks us, bemused journalists, after Punjab's Ranji Trophy Group B league game win over Tamil Nadu.
He takes a deep breath, slouches a bit in his chair to get a better view and points to the top of the hill with his left hand. "In 2011, I was on top of that but when I was diagnosed with cancer I was in a ditch right down there." His large hand moves down theatrically to create an effect.
After another deep breath, his hand follows the incline of the hill and arrives at the top and stops. "To get back to there, it will take a lot of time."
Yuvraj holds his pose and says: "I am lucky that I have been able to play again. It's sad that I got diagnosed at the peak of my career. But now either I sit and brag about how I have come back or I get on with life and try and get back to where I once was. I have had some very tough years but I have still managed to keep my body in shape."
He drops his hand on the table in front and takes a moment or two before looking ready to talk again.
Yuvraj's career leading up to the 2011 World Cup wasn't a rosy one. He had been in and out of the Indian team on many occasions, but the World Cup was his piece de resistance. He came up with one stirring performance after another to claim the Man of the Series award as he guided India to their second title. Soon after, however, he was diagnosed with cancer.

The story of his fight, his return and everything is all too well known, but it's his future that has a question mark attached to it.
"There has been a lot of talk about my engagement (to Hazel Keech) but, honestly, I do not want to talk about that right now. I am focused on doing well in the one-dayers so I can return to the side," he says. "I would definitely love to return to the side if there is an opportunity. If! But I will say that if I do get the opportunity, I should be given a decent period of time to perform. I had missed cricket for about a year and a half and right off the bat people wanted me to perform. They immediately wanted Man of the Match and Man of the Series performances from me.
"Boss, I am also human. I have also just been through one of the toughest journeys in my life. I am not saying cut me some slack, I am only saying if … if! If I get an opportunity, I should be given some time."
It's very possible that Yuvraj is stressing on the 'if' because he knows that he hasn't done enough this Ranji Trophy season to be seriously in the reckoning for a spot in the Indian side. In seven games, he has scored 398 runs at an average of 36.18, and that average saw a major spike only because of his 187 against Gujarat nearly a month ago. Those are decent numbers for an average player, but for someone who has played 40 Tests and 293 One-Day Internationals, it isn't great, not if he is hoping to break into a side that has people with set roles.
Still, for the ones who doubted his ability, all they needed to see was how effortlessly he batted on a vicious pitch at the NPR on the opening day of the match. Tamil Nadu had prepared a turner to get the edge against Punjab, and they were being rewarded for their ploy until Yuvraj came out and smashed 49 runs in 63 balls – the highest for the match. More than the runs or the number of balls taken, it was the manner in which he compiled his runs that stood out.
"I have not played on a wicket like this in 20 years. I feel a layer of the wicket has been taken off," says Yuvraj, who had a bandage strapped to his left elbow after being hit by one of the deliveries that kicked up abruptly. "If the ball is turning we can handle it, but if the ball bounces awkwardly then it can get dangerous and I think players' safety is very important. We have to be careful in the future to not give a wicket that is dangerous."
Poor pitches are the topic of the season and Yuvraj was more than keen to contribute with his opinion especially in the wake of the Natham game. "These pitches are not good for the future of Indian cricket. It's difficult for the batsman to play. After playing just two balls the batsman thinks that he needs to hit out in order to survive on this wicket," he offers.
Yuvraj's opinion mimicked Rahul Dravid's from a few days ago. Dravid, after Odisha lost to Bengal in their Ranji Trophy clash in Kalyani in under two days, had said that these pitches would bring about the downfall of Indian cricket. "Rahul is absolutely right in coming out against these pitches. See, when we go abroad we play on bouncy wickets so in India we should prepare turning wickets, why not? But the match cannot get over in two days."
Having warmed up, Yuvraj settles down – right hand over the head of the chair, legs stretched out, left hand tapping the table. "Anything else?"
What about Virat Kohli, his captaincy and all the aggression he shows on the field?
"See the thing is that Virat's very young. He has been very aggressive. That's fine. He also knows that his aggression gets the best out of him. The more he captains the more mature he will become. People go after him saying he's too aggressive and so on, but, yes, he is an aggressive young man, he wants to do well for his country. You have to give him a little time. I think he will calm down with time," says Yuvraj indulgently. "I also think it's the right time for him to lead India. He's the guy who has taken the team forward."
"Arrey yaar, you have a lot of questions …" he says with a smile as we prepare to throw the next one at him.
Your father said that MS Dhoni was the reason for your omission and …
He cuts the question short with a wave of the hand, and then leans forward and says, "That's my father's comment. Not mine."
For the first time, he shows us that he can be intimidating if he wants to, but he breaks into another smile to ease the tension almost immediately. "Arrey, one more?"
Did you like Dindigul?
"Dindigulla is just beautiful saaaarrrr!" he says with an impish smile, stands up lazily and very nonchalantly walks off towards a fleet of guards waiting to take him out to join his mates for a game of football.
His South Indian accent is not as good as his ability on the field, but the man is about having a laugh and living life to the fullest. On those yardsticks, he has, perhaps, already reached the top of that hill but just doesn't know it.
Slideshow: Rare photos of cricketers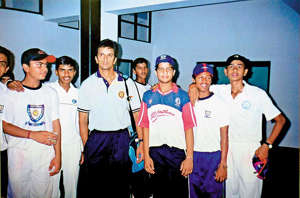 Rare photos of cricketers