Very proud to be Virat Kohli of the bowling line-up: Ravichandran Ashwin

India Today
31-07-2016
Ravichandran Ashwin bagged his second straight five-wicket haul as India bundled out West Indies for 196 on the first day of the second Test in Jamaica on Saturday. Ashwin finished with 5 for 52 to bag his 18th five-wicket haul in only his 34th Test match, a stat that suggests his frequency of taking five-wicket hauls is better than Sri Lanka great Muttiah Muralitharan.
An elated Ashwin was satisfied with his performance today and said he wants to pick five-fors in every game.
"I will be very proud to say that, I'll probably like to be the Virat Kohli of the bowling line-up that's the kind of benchmark you want to set for the team. He wants to turn up every game and tries to push on the benchmark. That's how a bowler should think. It's very difficult to get five-wicket hauls every game but that's what we should aim for," Ashwin said after the day's play.
Ashwin also praised the fellow batsmen but said India are wary of West Indies fight back. 

"I hope we are in a dominant position. But in Test cricket you can't say much. Sri Lanka were no where in the game but the game turned upside down and they won. We have keep piling the runs on.
"Very pleased that run-machine KL Rahul turned out and got runs again. That's the kind of nickname I gave him because he keeps on batting all the time and I am very pleased for him," Ashwin signed off.
India were comfortable placed at 126/1 in 37 overs, still trailing the West Indies by 70 runs.
Photos: 30 cricket world records that will blow your mind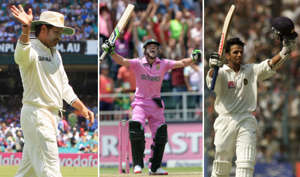 32 cricket records that will blow your mind
More from India Today

India Today