Vijender Singh beats challenger Francis Cheka, retains WBO Asia Pacific title

India Today
17-12-2016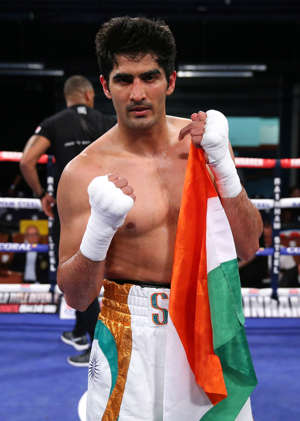 India's Vijender Singh outpunched Tanzania's Francis Cheka to defend his WBO Asia Pacific Super Middleweight title at the Thyagaraj Stadium here on Saturday. 
Undefeated in seven professional bouts so far, the 31-year-old Indian took just three rounds to retain his unbeaten streak since turning professional.
Vijender started dominating from the first round after defending the early punches from his opponent to lead 3-1 before landing seven punches to Cheka's three in the second round.
The third round witnessed the Haryana boxer completely dominating the contest as the referees ruled the bout in Vijender's favour by a technical knockout.
"I trained hard in Manchester for two months for this. I thank all my coaches for the effort they put in. Cheka talked so much but I believed in my punch power, and I have done it," Vijender said after the bout.
Celebrities adorned the front rows surrounding the ring. From five-time world champion M.C. Mary Kom to Minister of State for Home Affairs Kirren Rijiju to star wrestling duo of Sushil Kumar and Yogeshwar Dutt, it was a power-packed front row to cheer for Vijender from ringside.
However, the man who stole the show among the front-row occupiers turned out to be celebrity yoga guru Baba Ramdev. He walked in with Sushil to a loud applause from the packed stadium and was instantly mobbed for selfies and handshakes by the crowd.
Walking in to the now trademark tune of 'Singh is King', Vijender had the crowd excited even before he entered the ring.
When the bout finally kicked off, Cheka seemed quicker off the blocks even as Vijender played block and dodge.
However, the Indian got into the groove soon enough and landed lusty uppercut to the body to rattle Cheka.
Cheka seemed on the backfoot in the second round and was wary of having a go at the hard-hitting Haryana-lad, who stuck to landing clean and straight blows.
Cheka was also undone by the reach advantage that Vijender enjoyed.
While Cheka struggled to keep his balance owing to his shorter reach, Vijender put his long arms to good use.
Vijender, who became the first Indian boxer to clinch an Olympic medal when he won the Bronze at the 2008 Beijing Olympics, had defeated Australian Kerry Hope in a draining 10-round contest to take his first professional title in July.
More from India Today

India Today