Virat Kohli – one-time enfant terrible at a tactful 27

Wisden India
05-11-2015
Not too many cricketers would have led their country in six overseas Tests before making their captaincy debut at home. Virat Kohli finds himself in that somewhat unique position.
When he walks out alongside Hashim Amla on Thursday (November 5) morning for the toss at the PCA Stadium to kick off the first Test, it will mark a special moment in the life of India's batting superstar. Thursday is also when Kohli will turn 27, but the celebrations will be kept to a minimum because there is the bigger picture to look at – a series win against the No. 1 Test team in the world.
"It will be an exciting and special moment for me tomorrow when I the take field in my first home game as captain," he admits. "Secondly, it's my birthday as well, so it doubles up the excitement for tomorrow."
Kohli's has been a rapid climb through the ranks. His international debut was a little over seven years ago, in Sri Lanka. It wasn't until 2012 that he established himself in the Test side, but once he nailed down a Test spot, the captaincy was a natural progression once Mahendra Singh Dhoni was done and dusted.
Over the years, Kohli has matured immeasurably; there still are moments when his emotion and his passion get the better of him, but he is no longer the stormy petrel thirsting for a fight. The self-realisation that he must channelise his energies meaningfully has played its part in the gradual maturing of the one-time enfant terrible.
"There has been a lot of criticism about a lot of things in my life. I have never cared about these things," says Kohli with a self-assurance bordering on the cocky, even if that is not the intention. "Eventually, people can write and say what they want to, it's their freedom of expression, but when I step onto the field, I give my 100% every time. And I don't need to prove that to anyone else. I need to walk out to the field with a clear conscience and being satisfied with my effort today. And if I don't put in the kind of effort, I want to I improve on that.
"The only thing that has changed is that I have 40 grey hairs in my beard, that's the only thing that has changed since I have become Test captain!" he continues, a mischievous smile lighting up his eyes. "I am the same person that started playing for India. Obviously you do make mistakes and you learn from them along the way. It's not that I find those things very wrong, but I thought I was wasting my energies on being too expressive on the field at times, which I have started to control and use it in better places. You only get smarter with age and the amount of games you play at the highest level. That has happened to me as well. That is not something very unnatural, I have not changed in a big way."
That Kohli has learnt the art of tact is evident from the dexterity with which he handles tricky questions. This current series is named after two icons of peace, Mahatma Gandhi and Nelson Mandela. Kohli was asked if, therefore, he would curb his natural aggression and adopt the path propagated by these two gentlemen. "I think everyone has his own way of working," he remarks, picking his words carefully. "The greats on whose names this series has been named, they had their strengths and led in their different ways to become icons. But having a series in their name will not have a bearing on how we will play our game. Our plans, our thinking is very different, we will work on enhancing our strengths."
Kohli is obviously the first among equals in a young squad, and while he will continue to further his theory of positivity and attacking cricket, his leadership revolves more around empowering people than wielding the stick. "I haven't come in with a set of rules as such. The whole idea is, if you want to take the team in a certain direction, then you have to give them the freedom of expression and room to grow as cricketers," he offers. "You have to let them make mistakes and learn from it themselves. I think the responsibility factor is something that we have stressed on in this particular squad, giving guys more ownership of what is going on in field.
"I've been telling them that I might be captain, but it doesn't mean that you all cannot make suggestions or are not supposed to make suggestions. I think it's a matter of every guy standing on the field and thinking 'I can captain myself'. And take responsibility for what is going on inside the field and 'I'm not going to run away from my responsibility'. I think that sort of mindset is something we want to go forward with, where every member of the squad thinks that I can contribute in some way or the other. People who are not playing as well. That kind of environment is very important and it is something that we are looking to achieve with this particular squad."
They say that even when you are the captain, when you walk out to bat, you are only there as a batsman. Kohli didn't necessarily dispute that theory, but it is obvious from the way he talks about his batting goals that they are also linked to his captaincy aspirations. "The idea is to get as many runs as I can, obviously," he says, "but the pace at which I get those runs is also very important if you want to win Test matches. I understand my role in the middle order. I will try and assess the situation accordingly. Basically not do anything much different from what I've done before. This is a quality bowling attack. We are very excited about the challenge, and so am I. I love to be out there in the middle, into the action. I'm certainly going to be up for the challenge that is being thrown at by the South African bowlers. Nothing too different for this series. Same kind of preparation. Same kind of mindset. I just want to understand my role better according to the situation of the game."
There are shades of Dhoni in Kohli – not just the shades of grey – but that is only to be expected for now, given how long an apprenticeship he served under the master. With the passage of time, Kohli will become his own man in its entirety. Whether he will be as successful as Dhoni remains to be seen, but you can rest assured that Kohli will leave no stone unturned in his bid to ensure that India are the best cricket-playing nation in the world. And if that, to him, means ruffling a few feathers, getting under a few skins and mouthing off a little, so be it.
Slideshow: Virat Kohli: Rare and unseen images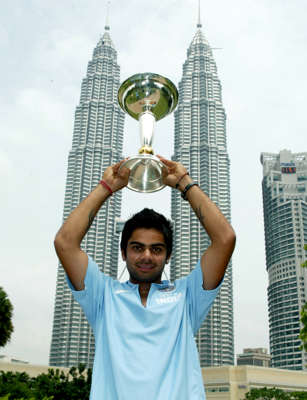 Virat Kohli: Rare and unseen images