Virat Kohli – the man Pakistanis fear the most

Wisden India
19-03-2016
It wasn't the ideal situation to walk into on March 18, 2012, in Mirpur.
Mohammad Hafeez and Nasir Jamshed had both scored centuries and recorded the highest partnership – 224 runs – for Pakistan against India in One-Day Internationals and the team total had reached a formidable 329.
Summiting 330 would have been a daunting task anyway, and it got tougher when Misbah-ul-Haq tossed the ball to Hafeez, who sent Gautam Gambhir back second ball. The joy for Pakistan, however, was short-lived.
In walked Virat Kohli, once again faced with the task of damage control against a strong attack. Confidence and self-belief were easily noticeable in his every move. He took his guard, got the sight screen adjusted, twirled the bat in his hands, and knocked the pitch thrice before carefully patting the first one back to Hafeez.
His first boundary, a leading edge off Umar Gul's extra pace, looked less convincing, but with each run scored, Kohli settled in. He teased the Pakistani bowling with his perfect timing and brilliant placement.
Before this Asia Cup encounter, Kohli had faced Pakistan thrice and his scores of 16, 18 and 9 had done little to make him a serious dangerman in Pakistani eyes. On this day, however, the capacity crowd at Sher-e-Bangla stadium witnessed Kohli at his absolute best – 183 from 148 balls, helped by 22 boundaries and a solitary hit over the ropes. Sachin Tendulkar and Rohit Sharma scored half-centuries as well. And by the time he was dismissed, in the 48th over, India were just 12 runs from the target.
Aizaz Cheema, Pakistan's trusted death bowler around that time, still remembers the hammering he received. "With 329 on the board we were confident of a win but Virat single-handedly took it away from us," he says. "He played an exceptional innings. I remember Umar Gul, Wahab Riaz and I were regularly clocking 140kph but it seemed that he had all the time in the world to play shots against us. He even hit our good balls for boundaries and that shows his class.
"Conditions were a bit in his favour as the dew made it difficult to grip the ball and deprived us of reverse swing, but I can't take anything away from his knock, it was simply brilliant."
Since then, Kohli has become a much-feared name in Pakistani cricket – almost a name mothers use to frighten children with – So jaa, nahin to Kohli aa jaayega (Go to sleep, or Kohli will come). His numbers are exceptional. In ten ODIs, he has 373 runs with the help of two centuries at 41.44. It's even better in Twenty20 Internationals, where he has 199 runs in just five games at a staggering average of 66.33.
The last two times that Pakistan have faced India, Kohli has been the chief tormentor for Pakistan. His century at the 50-over World Cup match in Adelaide last year was outstanding, while the 49 in Mirpur in the T20 Asia Cup last month cemented his status as the most lethal yet adaptable batsman of our times.
Pakistan had a disastrous Asia Cup, which led to all hell breaking lose at home. The Pakistan Cricket Board needlessly appointed an inquiry committee to probe the performance, Shahid Afridi's credentials as a captain and his place in the side came under scrutiny and Khurram Manzoor was dropped in favour of Ahmed Shehzad. Things turned uglier when, after reaching India, Afridi's statement on Indian hospitality led to his patriotism being questioned.
In such tumultuous circumstances came the dominant win over Bangladesh in the World T20. But, though Afridi found his golden touch and Hafeez and Shehzad found form at the right moment, cricket lovers in Pakistan realise well that facing India on their home turf would be an altogether different ball game. And one man that can easily make it a nightmare for them is the formidable Virat Kohli.
Ask Pakistani fans to pinpoint one man who gives them sleepless nights and Kohli is guaranteed to secure maximum votes. Yasir Abidi, a social media consultant with a local news channel, is one such sceptical fan that refuses to pull out his box of fireworks when Pakistan take on India. "Virat is exceptional, the commanding way in which he faced our bowling in Dhaka was a true statement of his skills. I can only imagine what he will do on the flat Kolkata wicket. Honestly, with him playing I am not too excited about Pakistan's chances."
Sadia Siddiqui, a Karachi-based radio jockey, echoed identical thoughts. "His name is a terror in the cricket world. I will pray that he doesn't play because somehow he always makes our bowling look ordinary. If we can get him out early, then the game is ours".
Kohli isn't likely to miss the game. So how do Pakistan get him out early on what is likely to be a flat Eden Gardens track? Sohail Tanvir, the Pakistani paceman, has some ideas. "Look, he is the most complete batsman you will come across, and who would know the Indian conditions better than him," says Tanvir. "If somehow we can dry his runs and concentrate on a line targeting the off and fourth stumps, then perhaps we can get him out early because that's one area where he is a bit vulnerable."
One possible highlight of the night could be the encounter between Mohammad Amir and Kohli, who faced off for a delicious little battle in the Asia Cup. "Kohli has a clear advantage here but Amir is a clever bowler. I am sure the Kolkata wicket won't support him but he knows how to adjust to conditions and uses his variations smartly. I think it's going to be an exciting contest between these two great players of our times," says Tanvir.
No matter how devastating he is when at his best, every batsman knows that it's always just a matter of one ball. Each time he walks into bat, Kohli knows that his wicket is the chequered flag that every bowler is racing to grab. After Adelaide and Mirpur, the Pakistanis are going to come at him hard. And fans back home would be hoping that one ball comes soon, and not when Kohli has put the game beyond Pakistan.
Slideshow: 25 cricket world records you must know about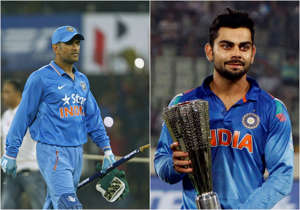 Watch: India vs Pakistan - fan frenzy in Kolkata