Virat Kohli a better chaser than MS Dhoni and Michael Bevan, already. The numbers prove it

India Today
18-10-2016
Another chase and another day in the office for Virat Kohli.
Continuing with his dominant form, Kohli hit an unbeaten 85 to seal India's six-wicket victory with nearly 17 overs to spare in the first ODI against New Zealand at Dharamsala on Sunday.
The Indian bowlers laid the foundations for a comprehensive win when they dismissed New Zealand for a paltry 190 but the chase, at one stage, looked far from a cakewalk.
Ajinkya Rahane (33) and Rohit Sharma (14) put on 49 runs for the opening wicket, but New Zealand did put the hosts under pressure, reducing them to 102/3 in the 20th over.
Kohli, whose double century in Indore helped India complete a 3-0 whitewash in the Test series against the Black Caps, then added 60 runs with ODI skipper Mahendra Singh Dhoni (21) to take the game away from the visitors.
Dhoni was run out after a huge mix-up but Kohli stayed put, before sealing the win with a massive six.
Since making his ODI debut in 2008 against Sri Lanka, Kohli has proved his mettle as a master chaser. He has impressed all with his aggressive approach, loud emotions, reading of the game, leadership skills and gradually climbed up the stairs to become the mainstay of Indian batting.
Photos: Cricketers — Then and now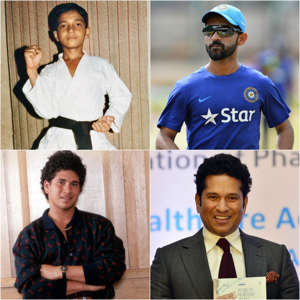 Now, Kohli is regarded as a more mature, composed player, who relishes performing under pressure situations. And it is his success rate under those circumstances that make him a player with nerves of steel.
At 27, Kohli's ability to pace his innings upon assessing the situation and his penchant of seizing the momentum has already ranked him with few of the modern-day greats of the game.
In 172 matches, Kohli has amassed a total of 7297 runs with a staggering average of 52.12 and an astonishing strike-rate of 90.11. He already has 25 centuries and 37 half-centuries under his belt.
However, what makes him special is his success rate in chases.
Out of the 172 matches he has played in, India chased in 96 and went on to win 61 of those games. Interestingly, 13 of Kohli's 25 centuries have come while chasing and every time India went on to win the match.
For a while now, former Australia batsman Michael Bevan and Dhoni have been considered to be among the greatest chasers in the history of ODIs.
Bevan and Dhoni are termed as masters of high-scoring chases and have played the difficult role of being a finisher, snatching victory from the jaws of defeat. Both have the ability to keep their calm under pressure, simultaneously constructing their innings before finishing off the match.
Taking the pressure off yourself is the most important skill required by any successful run-chaser and Dhoni, who won India two World Cups (2007 World T20 and 2011 ODI World Cup), took the method of chasing to a new level.
However, Dhoni has off late seen a dip in form and is not the same finisher as he once used to be. In his last 10 innings, Dhoni has scored 149 runs with his highest score being 47.
On the other hand, Kohli has remoulded the record books with ease.
In an ODI career of eight years, Kohli has proved to be a finisher par excellence and achieved unprecedented feats. It would not be unwise to say that he is already the greatest ODI chaser the world has ever seen.
Watch: Best helicopter shots in cricket history
More from India Today

India Today