Virat Kohli and I have always been aggressive: Ajinkya Rahane

India Today
30-06-2016
Ajinkya Rahane's rise in the international arena has been phenomenal ever since he burst onto the scene in 2011. Five years down the line, he remains one of the most improved and consistent players in the Indian Test and ODI teams.
The diminutive right-hander from Mumbai has taken giant strides in Test cricket in the past couple of years with consistent performances, especially on overseas tours. India's selectors have taken note of that and rewarded him with the vice-captain's post for the upcoming Test tour to the West Indies.
The 28-year-old has notched up Test centuries all around the world that too on some of the most iconic cricket grounds. Through sheer hard work and dedication, Rahane has completely turned around his fortunes after a forgetful debut against Australia in New Delhi, where he only managed single digits in both the innings at the Feroz Shah Kotla.
Six centuries followed after that, four of which have come on grounds like the Basin Reserve in New Zealand, Lord's, the Melbourne Cricket Ground and the P. Sara Oval in Colombo. His captain Virat Kohli has played a vital role in helping Rahane become the player that he is today.
BLOSSOMING RAHANE-KOHLI FIRM
The pair has stitched up some memorable partnerships in the recent past and seem to have taken over the job of guiding India's middle-order from retired legends Rahul Dravid and VVS Laxman.
It all started during India's Boxing Day Test against South Africa in Durban in 2013. After scoring an unbeaten 51 in the first innings, Rahane missed out on his maiden century by just four runs in the second innings. But it was his gutsy partnership with Kohli which probably changed Rahane's approach to the game forever.
"Yes, that partnership with Virat in Durban - a Dale Steyn delivery had hit me on the helmet and I didn't react, I didn't want to, so Virat came and told me 'attack kar isko' (attack him). When your partner gives you a positive response (it boosts your confidence and) I too responded positively saying yes, I am going to attack. That attitude is inside both of us from the beginning," Rahane told BCCI.TV in an exclusive interview.
"As we continued to play together we understood and got an idea of each other's game and we have both been enjoying batting with each other.
"Running between the wickets and communication is very important, but how you do it also matters. You can communicate in various ways but positivity and having intent is very important when you are playing in the middle."
KOHLI KEY FOR AJINKYA
Rahane and Kohli have managed 1094 runs at an average of 54.70 in 21 Test innings, including three century partnerships. Their success is all down to the chemistry that these two share when batting for India. Rahane says that they compliment each other really well.
"He is aggressive and I am calm so that combination works for us. In a way I too am aggressive but I don't show it; he is different. Each individual is different and that benefits both of us in different ways."
"When I need to be aggressive he boosts me and when he needs to cool down then I am able to probably help him. During practice also we keep talking to each other, discussing what should be the approach and how to bat in different situations. To enjoy that and communicate is very important," he added.
Rahane also endorses the fact that the key to any partnership on a cricket field is trust between the players.
"It is important that you trust your partner. Virat reads the bowler well and I feel that whether it is Virat or someone else if you have trust in your partner then you can enjoy the partnership and it's because of that trust that we began enjoying each other's company.
"Not only on the field but off the field as well we continue to communicate and that trust is the factor that has helped our partnership," he concluded.
Slideshow: Unseen images of cricketers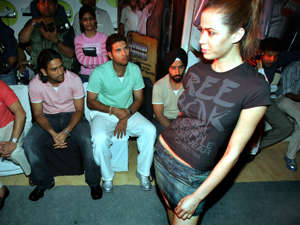 Watch: Virat Kohli's debut ODI innings
More from India Today

India Today