Virat Kohli, Anil Kumble will face greater tests than West Indies: Sourav Ganguly

India Today
25-07-2016
Sourav Ganguly refused to go overboard after India's first innings win in the West Indies in the first of four Tests at Antigua on Sunday. Riding on Virat Kohli's 200 and Ravichandran Ashwin's all-round performance, India decimated West Indies by an innings and 92 runs.

However, Ganguly lauded India's spectacular efforts but said the hosts barely presented any challenge and not much should be made of this triumph.
"This is a great win; there's no doubt about that. It's a great win for a young team. But this team is not the best West Indian team in the world. The West Indies teams of the 1990s and early 2000s were far, far better," Ganguly told India Today.
REAL TESTS

Ganguly, who was part of the Cricket Advisory Committee that picked Kumble as coach over former team director Ravi Shastri, said the new coach and young captain will face sterner tests when they tour England and Austraia in the future.
"I believe their real tests will be when they play England, New Zealand, South Africa and Australia away from home. Kumble will take this team forward along with the champion Kohli.
"This is a great combination for Indian cricket. But time will tell if they have the stomach for tough fights," said Ganguly.
Slideshow: Sourav Ganguly - The Prince of Calcutta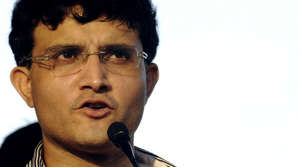 ---
Suggested by Microsoft Store
---
ASHWIN PRIMARILY A BOWLER

The former opener also lauded the team management for promoting Ashwin up the order to number six, where he smashed his third hundred. But Ganguly urged Ashwin to remember what his primary role was.
"Ashwin needs to know that he is primarily a bowler and whatever runs he gets are a bonus," he said.