Virat Kohli best in the ODI format, by far

India Today
17-10-2016
Sourav Ganguly summed it up best. "Sheer class", he said when asked to decode Virat Kohli in a run chase. Time and again, match after match Virat continues to baffle one and all. If it's a run chase, he just has this uncanny ability to take his game a few notches higher. Pacing innings after innings beautifully and soaking in all the pressure, India's talisman is also India's single biggest match winner in ODI cricket.
What is special about Virat in a run chase? Why is he different to others? And is he the best batsman in ODI cricket in the world on current form?
The last question is the easiest to answer. It is an overwhelming yes. No ABD, no Joe Root and no Kane Williamson comes near Virat in the 50 over format. In Test cricket it is perhaps Root who is the most consistent among this young crop and in the 20 over format, ABD can match Kohli stroke for stroke. But come the 50 over game, Virat's consistency has no parallel. Averaging 50 plus with 25 hundreds, most of which have come in a winning cause, Virat is soon pushing himself into reckoning as India's best ODI player of all time.
Haazme ki goli, Rangon ki holi,
Aur batting me kohli
Poore India ko pasand hain

— Virender Sehwag (@virendersehwag) 16 October 2016
In trying to analyse what's special about him, one is forced to single out his confidence and ability to soak in pressure. The context, however big it is, doesn't faze him and Kohli goes about his business in a manner he has mastered over the years. Knowing full well he can accelerate at any time, the asking rate is never a concern with Virat allowing that extra bit of cushion to pace his innings. Importantly, he allows the batsman at the other end to bat freely and to their liking without ever feeling the pressure. With Kohli there running between the wickets is inevitably top notch and most batsman can revolve around Virat without having to look at the scoreboard.
How long can he continue this rich vein of form? Can he win India the Champions Trophy in England in the summer of 2017 and will that be the culmination Virat is hoping for?
Having failed in the 2015 World Cup in Australia and in the World Twenty20 on home soil, Virat will surely be eyeing the silverware in England. And it is one country where Kohli has not had the best results giving him the little extra incentive he perhaps needs. With 7 months to go for cricket's next big tournament, all of India will be hoping it will be another Virat show. One like no other.
Photos: 26 things you should know about Virat Kohli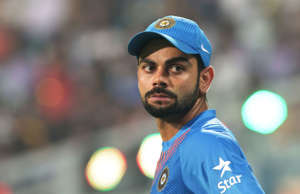 Watch: Virat Kohli's debut ODI innings
More from India Today

India Today