Virat Kohli better than Sachin Tendulkar in Australia: Sourav Ganguly

India Today
24-01-2016
Former India captain Sourav Ganguly has rated Virat Kohli as the best touring player he has seen in Australia.
Disappointed after India lost the ODI series 4-1 to the hosts, Ganguly said Kohli was the only bright spot in the side.
"The only positive from India's tour of Australia is Virat Kohli," Ganguly told Sports Today. He just keeps getting better and better in Australia. I have seen a lot of player do very well in Australia, like Sachin Tendulkar and VVS Laxman but I think Kohli is the best."
The 28-year-old was the second highest scorer in the series with 381 runs behind opener Rohit Sharma, averaging an exceptional 76.20.
With two centuries in 2016, Kohli has now scored 25 ODI tons in 171 matches and is 4th on the list for most centuries in the 50-over format.
However, Ganguly was far from impressed with the rest of his teammates, including under-fire limited-overs captain Mahendra Singh Dhoni.
Dhoni has kept stressing that there have been improvements in the team but Ganguly failed to see any "marked" changes.
"There is no marked improvement from the rest. Dhoni's overseas performances haven't got better, neither have the spinners'."
Ganguly praised openers Rohit Sharma, who scored 441 runs including two hundreds and Shikhar Dhawan, who amassed 287 runs with two fifties and a hundred but said the rest needed to catch up.
"The team is not getting better in case of overseas performances. Yes, Kohli, Dhawan and Rohit have been very good but it's not just about individuals," Ganguly said.
Watch: India struggling to get team combination right — Dhoni
Slideshow: Rare photos of cricketers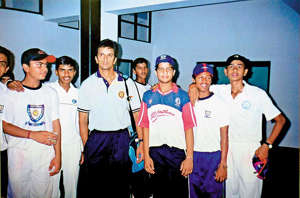 More from India Today

India Today