Virat Kohli busy 'changing diapers' as Mahendra Singh Dhoni battles Zimbabwe

India Today
15-06-2016
Even as Mahendra Singh Dhoni is sweating it out in Zimbabwe with a group of young players in a limited-overs series, star Virat Kohli, rested for the tour, has also found a way to keep himself occupied away from the crease. The dashing 27-year-old, who was on a record-breaking spree recently, is now busy changing diapers. Yes, you read that right.
While Dhoni ended a long wait of almost two years, 20 months to be precise, to win an ODI series when India defeated Zimbabwe in the second ODI on Monday, Kohli has passed the time by being active on Social Media and attending reality television shows. Recently, Kohli also showed his love for football when he posted a picture in support of the ongoing European Championship in France.
Kohli will soon be part of The Tara Sharma Show season 4, televised on a popular channel Star World, an episode of which has already been shot. The teaser of the show suggests that the Indian Test captain will talk about "children pursuing their passions."
Kohli will also be seen changing diapers and he seems to have liked it as well.
Not only that. Kohli was also reportedly seen on the sets of Anushka Sharma-starrer Phillauri last week. Reports also suggest that the love birds have reunited after their alleged break-up.
11 MILLION TWITTER FOLLOWERS
The poster boy also went past 11 million followers on micro-blogging site Twitter and needs a few more to supass most-followed Indian cricketer Sachin Tendulkar, who has 11.2 million followers.
RECORD IPL SEASON
Kohli has been in smashing form this year. With 973 runs in 16 games at an average of 81.08 and a strike rate of 152.03, he finished as the highest scorer in the Indian Premier League this season.
He had not scored a century in T20 cricket before the IPL this year now he has four tons to his credit, a record which no one else has been able to emulate in any other T20 tournament around the world.
Slideshow: 26 things you should know about Virat Kohli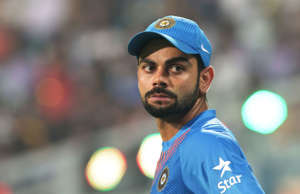 27 things you didn't know about Virat Kohli