Virat Kohli can bat in any condition with shades on, says Kapil Dev

India Today
13-12-2016
It was no surprise that James Anderson's comments against Virat Kohli drew an enormous amount of flak in India, especially after the skipper led his team to an emphatic victory against the visiting English team in Mumbai.
Anderson had claimed that the pitches in India hide Virat's 'flaws' and the Indian skipper may not be as successful in foreign conditions.
Former India captain Kapil Dev, who watched Virat's splendid knock of 235 runs at the Wankhede Stadium from the commentary box, minced no words to show a clearer picture to the England paceman.
"Tell him (Anderson) to put his shades on, maybe he will see things clear. Virat can put his glasses on and can play in any conditions," said the legendary Indian all-rounder.
Kapil, who was flanked by other former Indian cricketers Madan Lal and Nikhil Chopra, went on to declare Virat as the best batsman he has seen in this era. The former India skipper said Virat's stature is not dependent on anyone's certification.
"Virat is playing great. It's great to see an Indian play this well. I have never seen a cricketer like him. I don't want to compare him with anyone but you go and check the records. The records speak for him. He is the best batsman of this era and I don't have to say that, because the records are self explanatory."
© AP Photo

Kapil's record of 75 wickets in a calendar year is under threat, which comes from off-spinner Ravichandran Ashwin, who is currently the leading wicket-taker this year with 71 scalps.
Kapil doesn't mind if Ashwin surpasses his record which he claimed in 1983, the year when he also led the Indian team to its maiden World Cup title.
"Ashwin is one of the most fabulous bowlers that we have seen. It is not just about my record but the targets that he will set for others is important. My record should be broken because the youngsters should perform and keep breaking records," pointed the legendary all-rounder.
Kapil, however, chose to keep the cards close to his chest when asked if Virat should take over the captaincy in all three formats. "It's a long journey and he (Virat) has to go a long way. At the moment, we want him to keep winning Tests the way he is right now."
Slideshow: 25 most controversial cricketers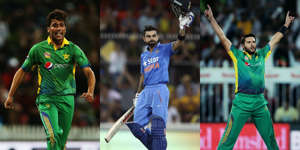 Watch: 'Good that Kohli stepped in to stop Ashwin-Anderson spat'
More from India Today

India Today