Virat Kohli can get more runs than Sachin Tendulkar: Chaminda Vaas

India Today
21-05-2016
Chaminda Vaas was to Sri Lankan cricket what Javagal Srinath was to Indian cricket. Assigned with the task to deliver on spinner friendly surfaces at home, sometimes even as a solitary fast bowler in the playing eleven, the left-armer ticked all the right boxes.
In the process he got 355 test wickets for Sri Lanka and never complained. "As a fast bowler my job was to bowl well even if it was a desert. That's the spirit you have to keep. Bend your back and get wickets. Try to enjoy bowling, no matter whatever the surface," he tells India Today.
The Sri Lankan pacer is in Mumbai at friend and cricketer Jwala Singh's T20 competition.
'TOUGH ONE TO ANSWER'
Five years into retirement, the fast bowler's 'competitive spirit' is still intact. When asked if at his prime, which of Virat Kohli, AB De villiers or Chris Gayle would he least like to bowl to, this is what Sri Lanka's left arm great had to say, "When I was bowling, I loved to bowl to Gayle. Got him out many times. But it is a tough one to answer. They may all be good batsmen but as a fast bowler if you put the ball in right area, can get anyone out."
'GENIUS VIRAT'
Yet when asked to evaluate Virat's superlative form of late, he wasn't economical in praise. "Virat is a genius. We can see from his consistency. We saw when Sachin was a youngster he did the same. I am sure he will be able to do the same things and get many more runs for India," he predicted. 
"If I were to bowl to Virat in this form, I am sure he would have hit me for six sixes in an over. He is in a different class. He is commanding the game and dominating the bowlers. Virat wants to be like Sachin (Tendulkar) and one day even get better than him."
HOPES ON BHUVNESHWAR KUMAR
Having played initial seasons of IPL and observed Indian cricket closely, Vass is hopeful Bhuvneshwar Kumar, one of the few swing bowlers in Indian cricket will learn to find the right balance between yearning for pace and keeping swing in tact. "He is still young. He is someone who has played lot of odi cricket. IPL itself is very competitive so one has to learn variations. When you try to bowl fast you can lose swing. But he will have to keep in mind that you have to have both, develop that ability which comes with practice," he observed.
'BUMRAH, A GOOD LEARNER'
Vaas had a word of praise for India's new find Jasprit Bumrah, who has been an understudy to fellow countryman, Lasith Malinga in the IPL.
"Lasith is one of the greatest bowlers in the world with ability to bowl yorkers at will. Bumrah has learnt from him and not surprising that he is doing well.
"It's all about learning. You have to try to apply from learnings and am sure Bumrah is a good learner. Test cricket is not going to be an easy game. One needs skill to succeed there. He will have to put all his experience of odi cricket to use in test cricket to do well," Vaas said.
Slideshow: 25 things you should know about Virat Kohli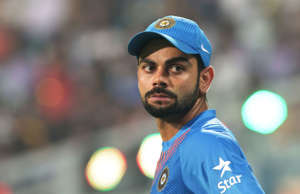 27 things you didn't know about Virat Kohli
More from India Today

India Today