Virat Kohli, Cheteshwar Pujara approach key milestones in Test cricket

India Today
08-12-2016
Trivia/Approaching milestones
A draw will give India their first series win over England in eight years. They had last beaten England 1-0 in a two-match series at home. Since then India had lost to England 0-4 in 2011 (in England), 1-2 in 2012 (in India) and 1-3 in 2014 (in England).
England are the only visiting team to have won more than one Test at the Wankhede.
Cheteshwar Pujara needs 2 runs to complete 1000 runs against England.
Virat Kohli needs 35 runs to complete 1000 runs in 2016 - will be the first Indian to do so this year. Virat will also be the first Indian to aggregate 1000 Test runs in a calendar year since Rahul Dravid who made 1145 runs in 2011.
Kohli is 41 short of 4000 Test runs. He will become 14th Indian to reach this mark. He will be the second youngest for India after Sachin Tendulkar to accomplish this feat.
Both Ravindra Jadeja and Moeen Ali are five short of 100 Test wickets.
Photos: 'Unique' world records held by Indian cricketers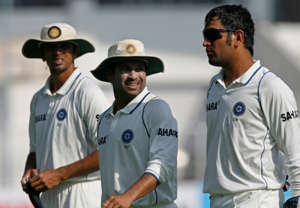 A win or a draw at Wankhede and India will equal their longest streak without a defeat. Between 1985 and 1987, India had played 17 consecutive Tests without losing a single one. Currently India have played 16 matches on the trot without suffering a defeat (they had last lost a Test against Sri Lanka at Galle in August 2015).
So, Virat Kohli has a golden opportunity to equal India's all-time record at Wankhede and then establish a new record at Chennai.
India's current streak of 17 Tests without a defeat at home is their second longest ever. Between January 1977 and February 1980 India did not lose a single Test out of 20 they played at home (under three captains- Bishan Singh Bedi, Sunil Gavaskar and Gundappa Viswanath). The current streak has been under two captains (MS Dhoni and Virat Kohli).
India's longest streaks without suffering a defeat: 17 Tests between 1985-1987, 16* between 2012-2016, 15 between 1979-1980, 14 each between 1993-1994 and 2008-2010 and 13 between 1953-1956.
Watch: When Virat Kohli made his ODI debut
India's recent performance in Test cricket is impressive, but their performance at home is even more impressive. Since losing to England at Kolkata in December 2012 India have not lost a single Test at home - that is no defeat in four years.
It should not surprise anyone that India's record is the best for any team at home in last four years. In fact India are the only team not to lose a single Test at home in last four years.
India's longest undefeated streaks at home: 20 Tests between 1977-1980, 17* between 2012-till date, 16 between 1960-1964, 12 each between 2001-2003 and 2010-2012.
One area which has been of some concern for India is the opening partnership. On an average the opening pair has contributed 28 runs per innings this year. Among all 10 teams, only West Indies and Zimbabwe have got worse starts from their opening pairs in 2016.
India have used six different opening pairs this year, which are the most employed by any side. Of course this is more because of the fact that Shikhar Dhawan, Murali Vijay and KL Rahul have been injured rather than the selectors playing musical chairs.
---
---
More from India Today

India Today