Virat Kohli: Don't compare me with Sachin, it's embarrassing

India Today
18-05-2016
Virat Kohli feels embarrassed when he is compared to Sachin Tendulkar and asserted that he wanted to be himself at the crease. The 27-year-old has been in breathtaking form this year, hammering heaps of runs in Australia, Bangladesh and India.
Following his exploits in Australia, Kohli has drawn comparisons with Tendulkar, who is regarded as the greatest batsman to have played the game since Donald Bradman. Tendulkar is the only batsman with 100 international hundreds and 200 Test caps and remains the highest scorer in Tests as well as one-day internationals. Kohli said drawing parallels with the Master Blaster was unfair.
"Honestly I feel embarrassed. It is unfair and Sachin can't be compared with anyone. Comparisons are not valid from my end. I have looked up to him but want to be myself and definitely draw inspiration from him. He is two levels above any player. Sachin was born with talent and I had to work for it," Kohli told India Today in an exclusive interview.
KOHLI MUCH CALMER NOW
Kohli might be hailed as the new-age Tendulkar, thanks to the sheer weight of runs under his belt but unlike his mentor, the temperamental Delhi batsman has often drawn flak over his on-field behaviour. His outbursts against Australia have looked ugly on television. During India's tour Down Under in 2011-12, Kohli flipped the middle finger to a section of the crowd at the SCG. In 2014, Kohli had serious altercations with Mitchell Johnson and David Warner while later in 2015, Ishant Sharma got banned for a Test following his verbal assaults on Sri Lanka's batsmen.
But Kohli said he is calmer now. "I understand I have crossed lines many times. Crossing the line has also helped me correct myself. I'm more calm now but whenever there will be a need for aggression, I will be up for it."
A NATURAL CAPTAIN
However, Kohli's aggressive attitude has helped in shaping up an aggressive Test side. He took charge after MS Dhoni's shock retirement in 2014 and Kohli impressed with his sharp cricketing acumen and understanding of the finer points of the game. "Captaincy is something that comes naturally to me. Initially, I was not good at handling different players differently but I have been fortunate to have players of my age in the team.
Kohli might be a product of India's new cricketing structure and he might be among the most destructive batsmen, but he is clearly a traditionalist at heart and feels Test cricket is still popular and there's immense satisfaction from a good performance in the longest format of the game.
"I am not worried about Test cricket's future. It is still very popular. When you perform, it gives real satisfaction... also in terms of job satisfaction. I still feel in Test cricket I have a long way to go. I want Test victories, series wins...want to win Test matches for the team and India. Stats and other things doesn't matter," he said.
Slideshow: 25 things you should know about Virat Kohli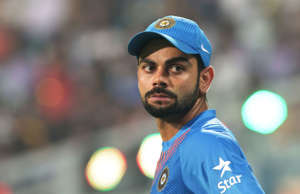 27 things you didn't know about Virat Kohli