Virat Kohli, eight years after his debut, is already challenging batting greats

India Today
24-11-2016
In just eight years in international cricket, Virat Kohli has become the cornerstone of India's Test team, a finisher par excellence in ODIs and a dominant force in T20s.
From leading his side to U-19 ICC World Cup glory in 2008 in Kuala Lumpur to guiding India to the No.1 spot in Test rankings in 2016, Kohli has come a long way from being a batting prodigy to being one of the top batsmen and leaders of his generation.
Kohli has been in sensational form this year, scoring runs across all formats. He has been in record-breaking form in T20s, has slammed three hundreds in nine ODIs, and hammered three hundreds, including two double hundreds in nine Tests. He now has 2277 runs across all international formats during this calendar year - shade behind England's Joe Root (2285).
The Delhi dasher has plundered 1614 runs in the shortest format, cracking four hundreds. He led India to a 3-0 series whitewash against Australia, the Asia Cup T20 title in Bangladesh and to the semi-finals of the World T20 at home. Kohli then turned his focus on to the Indian Premier League, where he amassed a record 973 runs.
Kohli has been equally sensational in Tests this year, leading India to series victories over West Indies and New Zealand. Recently, he became the first Indian captain to slam two double hundreds in Tests.
Kohli's never-ending hunger for runs and milestones has not just made him one of the modern-day mavericks but also a challenger to the batting records set by few of the greatests of the game.
© AP Photo

During 2008-2016, Kohli has played a combined 271 international games (Tests, ODIs and T20Is) and has amassed 13,118 runs at a staggering average of 51.84.
Though Kohli ranks 44th in the list of batsmen with most runs in career across all formats, Kohli has already broken or equalled some of the records set by former legends and is fast catching up with the rest.
Kohli has 40 centuries in his career, two more than what former India captain Sourav Ganguly scored in his 16-year international career, five more than Pakistan legend Inzamam-ul-Haq (1991-2007) and former Australia skipper Steve Waugh (1985-2004) who have 35 hundreds to their name.
Among active players, only AB de Villiers (45), Hashim Amla (48) are ahead of Kohli and Younis Khan, who has been playing since 2000, has equal number of number of centuries.
However, the fact that both de Villiers and Amla have been playing international cricket for over 12 years, it gives Kohli the edge straightaway. Moreover, injury has kept de Villiers away from action for quite some time now and it will be difficult for the Proteas captain to regain his astonishing scoring rate.
Another factor which is in Kohli's favour is his age. At 28, Kohli has many years of international cricket left in him - an advantage that Amla (33) and de Villiers (32) don't have.
Every player experiences a lean phase in his career and Kohli's purple patch too won't last forever, but his extraordinary ability to overcome hurdles makes him arguably one of the only present-day batsmen who can break into the top five.
Here's a list of top-five batsmen with most centuries in international cricket.
Photos: Stunning cricket stadiums around the world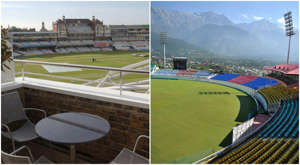 Watch: When Kumble's bowling won Hero Cup
More from India Today

India Today