Virat Kohli forcing Mahendra Singh Dhoni into cricketing backwaters

India Today
11-05-2016
Indian cricket stands at the crossroads of a generational change.
Mahendra Singh Dhoni, 34, is the last surviving member of the Golden Era, which saw India scale new heights alongwith Sachin Tendulkar, Sourav Ganguly, Rahul Dravid, VVS Laxman, Virender Sehwag, Anil Kumble and Zaheer Khan. They all left in a procession, leaving Dhoni to adjust with a group of energetic and extremely ambitious youngsters.
Dhoni's leadership and tactics, which sometimes thrived on a wait-and-watch policy, were out of sync with his more aggressive, younger colleagues. There were calls for a different brand of cricket, that was not necessarily gentlemanly all the time. The calls became louder as Dhoni preceded one defeat after another overseas.
India were humiliated repeatedly in England, they made a fight of it in New Zealand and South Africa but thoughts of victory were far-fetched. It was finally in Australia at the end of 2014, that a new ray of hope emerged.
India realised they could rely on Virat Kohli to not only score tons of runs but he could be the man to lead a revival in their fortunes, as a leader of men. The then 26-year-old took Australia by storm, hammering twin hundreds in the Adelaide Test, which India nearly won. Dhoni came back for Brisbane and Melbourne before a shock retirement, that left Kohli with the reins.
The Delhi dasher took to the job incredibly well. He was assertive in the final Test at Sydney and a few months later, led India to historic series triumphs in Sri Lanka and at home against the erstwhile world number one South Africa.
Miseries pile up for Dhoni
Meanwhile, Dhoni, who remained at the helm in limited-overs cricket, suffered a World Cup semi-final exit and oversaw defeats against Bangladesh, South Africa and Australia.
The contrast in the leadership styles of Kohli and Dhoni was stark and glaring.
Success was no longer about a process that had to be painstakingly followed. It was now all about aggression, ruthlessness and plenty of attitude. The emergence of Virat Kohli, the batsman and leader, did not help MS Dhoni's cause in any way. Observers, experts and fans now had a new hero, a new leader.
While some stood firmly behind Dhoni, others left it to the Jharkhand batsman's wisdom on whether he wanted to continue in any capacity.
Dhoni haunted by poor form
What made matters worse was Dhoni's poor run with the bat. Since the World Cup, he has only two half-centuries to show for his efforts while Kohli has gone on to become the most consistent batsman in the world. His 381 runs in the five-match series against Australia earned him rave reviews. Two hundreds and two fifties in the course of five matches helped him bounce back from an indifferent year. Kohli has since turned on the heat further and went on to score 199 runs in the three-match T20 series against the Aussies, played a couple of classics in the Asia Cup T20, won the Player-of-the-Tournament in the ICC World Twenty20. That was not the end of that. The 27-year-old is topping the charts at the IPL currently, with 561 runs, including two hundreds.
Dhoni, on the other hand, has struggled to make meaningful contributions with the bat and his side Rising Pune Supergiants, have virtually no hope of going beyond the league stages. For a man, who has overseen two IPL triumphs, this is a first and most certainly a new low.
Kohli a beacon of hope
Not that RCB have done very well themselves - after a thrilling one-run win, they happen to be sixth in the points table but at least their prospects of making it to the last-four are still bright. At least, Kohli has led from the front like he has done so often as India's Test captain. At least, Kohli, unlike Dhoni, has given the team hope.
India have been dismal in ODIs for too long now. And Dhoni's leadership has not helped matters. He has lacked the wherewithal and the drive to try anything new. His deteriorating relations with lead off-spinner Ravichandran Ashwin have hampered the bowling attack, his lack of faith in the pacers has been too hard to miss and he seems to have lost his voice in the team as has been obvious with some banal team selections.
Kohli's time is NOW!
It is as good a time as any for Kohli to take over. Thanks to his stupendous run with the bat and sharp cricketing acumen, he has pushed Dhoni into the cricketing backwaters. There is still time for Dhoni to play on as a key member in the shorter formats of the game. Former skipper Sourav Ganguly feels Dhoni is wasting his talent by not promoting himself up the order. He still has the firepower to pack a serious punch.
A change of guard is imminent. Dhoni may not go out on his own - that much was evident in a defiant press conference after India's semi-final defeat to West Indies in the World T20. But will the selectors be so bold as to sack him? And if they are THAT bold, will Dhoni show Kohli the grace of playing under him?
That is a question for the ages!
Slideshow: 25 cricket world records you must know about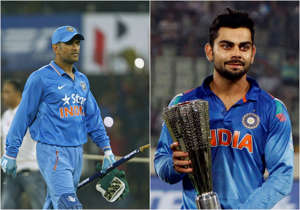 Cricket world records you must know about
More from India Today

India Today