Virat Kohli gets annoyed when asked about Ravi Shastri

NDTV
26-07-2017
Team India captain Virat Kohli has decided to put a full stop to all questions regarding Anil Kumble's acrimonious departure and the subsequent appointment of Ravi Shastri as head coach. Kumble resigned from the position after the ICC Champions Trophy in June and admitted that his relationship with Kohli had become 'untenable'. The skipper decided to end the topic ahead of the India's first overseas tour since 2015.
Asked about how the team is coping with all controversies surrounding the appointment of new coach, Kohli said: "It (the coach issue) is something that we are not focusing on at all now. We (him and Shastri) have worked together before and it has been fruitful and successful in the past. We are just looking forward to cricket now.
Complete coverage: Sri Lanka vs India Test series
"That particular series (in 2015) was very important for us coming together as a team, believing that we can win Test series and not just Test matches. That was the beginning of that mindset. We were able to build on that in the last couple of years, training in a certain way, thinking about the game in a certain way and playing together as a team in a certain way," said Kohli.
Photos: Indian cricketers and their 'Unique' world records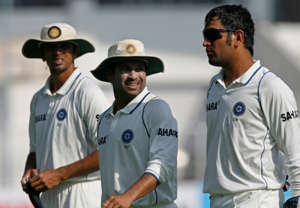 Kohli said that they now have a good 'base' which is a key component towards the team being World No. 1 in the Test rankings.
"I think we have really built a good base for ourselves as a team to be able to do that consistently over the next few years. The next phase of (overseas) cricket is going to be challenging but it is something that we are looking forward to because we believe we have the skill required to win different conditions. We have all the bases covered strongly," said Kohli.
Watch: Ravi Ashwin makes a big revelation
(Video provided by Wisden)