Virat Kohli great advertisement for cricket: Sourav Ganguly

India Today
23-07-2016
It was an iconic moment at the Sir Vivian Richards Stadium in Antigua as Virat Kohli kissed the pitch after scoring his maiden Test double ton on a ground named after the West Indian great. The legend himself was in the stands to witness Virat's epic knock, his words of advice bearing fruit for the Indian Test skipper.

"He (Kohli) is a passionate person, he loves this game, loves to be on the winning team and he loves giving kisses on the cricket ground. It doesn't matter where he does it, whether it is on the pitch or his bat or whether it is for his fellow teammates, he wears his heart on his sleeve. He is a terrific advertisement for the game, a huge brand for cricket and he is the future of Indian cricket" says former Indian captain Sourav Ganguly.
Ganguly himself knows a lot about leading from the front. Virat's innings bearing shades of Sourav's knock against the Aussies in 2003 in Brisbane. Back then Dada smashed a defiant 144 runs in India's 1st innings of the series. His knock not only helping India save the Test but also draw the series against Steve Waugh's mighty Australians in their own backyard.
Slideshow: Virat Kohli - On and off the cricket field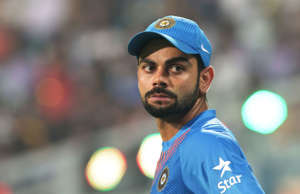 'DOUBLE TON SETS THE TONE'

"I did not get a double hundred so this is different, he has got a double hundred in Antigua in the 1st Test and a double hundred is different. Yes it helps when the captain gets a hundred in the 1st Test of a series, it sets the tone, it actually sends a message in the dressing room that listen if I can get it then rest can as well," adds the former Indian skipper.
Virat Kohli became the first-ever Indian skipper to score a Test double century overseas. It wasn't just the amount of runs he scored but the pace at which he did so that impressed Ganguly, "The quicker you get runs it is good for the team. Look at how Virender Sehwag played Test cricket and the number of runs he got at a pace, that always helps. I don't think Kohli looked at scoring runs at that pace, he just kept playing and the runs kept on coming. There will be days when he will have to grind because that is the way sport is. You know you have to find different ways of scoring runs."
---
More on MSN India
Suggested by Microsoft Store
---
KOHLI IS SPECIAL

Virat is certainly on his way to greatness, another milestone has been passed and a Test victory in the Caribbean is a real possibility. Comparisons with Sachin and Richards are understandable but Ganguly says Virat's passion sets him apart, "I don't compare cricketers, I don't compare eras but Virat Kohli is special. Yes he is an emotional person. You will see emotions on the field with Virat Kohli till the time he plays cricket and that is the reason he brings back people to the ground. That is the reason he bring people like us to watch him play when he walks out to bat or when he walks out to field. You just get the feeling that he wants to win matches be it Tests, T20s or ODIs."
Having been named the player of the Tournament in both the World T20 and the IPL earlier this year, Virat has carried his tremendous form into the Test arena. Ganguly reckons this is the best he has seen Virat play, "He has been in great touch over the last 2 years and is in, as you say, a purple patch. He has got runs all over the world, take Australia, versus South Africa, take IPL, in India and now in the West Indies. This may not be the best attack in the world that will give you sleepless nights in the Caribbean but you still have to get these runs and he is phenomenal. His feet movement, his confidence, his fitness is something to look forward to. He is a special player, it is a 4-Test series and this was just the first innings. I guess he will make these West Indian bowlers toil very hard right throughout."