Virat Kohli happy to stay away from cricket after hectic season

India Today
08-06-2016
Star India batsman Virat Kohli is making good use of his time off the cricket field. After enjoying unprecedented success at the recently concluded ninth edition of the Indian Premier League, where he scored a record 973 runs, including four centuries, to lead Royal Challengers Bangalore to the final, Kohli is now set to lend his voice for the official anthem of Premier Futsal, of which he is the brand ambassador.
Premier Futsal on Monday unveiled musical maestro AR Rahman as the composer of the league's official anthem ahead of its inaugural season.
This is the first time that the Oscar-winning composer is lending his musical genius to a franchise-based sports league in the country.
The anthem, titled 'Naam hai Futsal', will be released with a video featuring Kohli on June 20.
Revealing little details about the song, the 'Mozart of Madras' said Kohli's part will be a rap.
"We've been working on the song for a week. Virat's portion will be a rap... I will make it easier for him," said Rahman.
"The lyrics for this song are in English, and we've been working on it for a week now - not sure how it'll turn out yet! The track isn't all rap though; it'll have a mixture of other elements as well," he added.
KOHLI A RAHMAN FAN
On his part, Kohli said: "Many of my childhood memories have a connection to the tunes of this man. I know how to prepare for cricket, but I have no clue about a recording session."
"During any cricket game, the only song that gets everyone together is Vande Maataram - the version Rahman composed," he added.
The five-a-side variant of football was launched amid much fanfare earlier this year and Rahman's association with it adds further gloss to the league, which already boasts Portugal football legend and former World Player of the Year Luis Figo as President.
Premier Futsal is set to take place in India from July 15-24 with each game split into two halves of 20 minutes each.
KOHLI NOT THINKING OF WEST INDIES YET
Kohli's next assignment will take him to the West Indies in July, for a four-Test series but the 27-year-old said he was not thinking of strategies and team combinations yet.
He has played international cricket non-stop since October when South Africa came visiting for a three-match T20 series, a five-match ODI series and a four-Test series. India then travelled to Australia for an ODI and T20 series before returning home to play Sri Lanka in a T20 series, which was followed by the Asia Cup T20, the World T20 and the IPL. Kohli was only given a week's rest when the selectors decided to let him catch up his breath during the T20 series against Sri Lanka.
"I am enjoying time off the game. Sometimes, it feels good to stay away from the game. It's always nice to sit back and relax. Honestly, I haven't thought about team composition and other stuff. I have to see the conditions there and then we can decide whether we want to go in with five bowlers or four bowlers," the 27-year-old said at a press conference on Monday.
Kohli has enjoyed wild success after taking over as India's Test skipper after MS Dhoni retired from the five-day format in December 2014, leading the team to historic series victories over Sri Lanka and South Africa.
Slideshow: 26 things you should know about Virat Kohli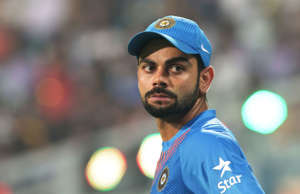 27 things you didn't know about Virat Kohli