Virat Kohli in own territory, comparisons with Sachin Tendulkar unfair: Bhaichung Bhutia

India Today
26-12-2016
Virat Kohli has quite simply been the star of 2016. With 2595 runs, seven centuries and 13 fifties across all formats, the Indian Test captain had an exploding year.
The 28-year-old has left the purists of the game flummoxed with his astonishing scoring ability and sheer consistency as rarely does anybody come across a player who can dominate world cricket in the same manner as Kohli.
Condition, pressure and expectations are the three most important factors that determine a player's career. Kohli overpowered all of them with a masterly flair.
Not only did he take his game to an all new level, Kohli also ensured that India finish the year on top of the world Test rankings.
And just as Kohli is winning every accolade under the sun, the Delhi-dasher's never-say-die attitude has bowled over another Indian sporting icon. Kohli, with his artistry on the cricket field, has gained an illustrious fan in former India football captain, Bhaichung Bhutia.
Bhutia, who himself captured the imaginations of his fans with his skills on the football field, is amazed with Kohli's consistency.
"Virat Kohli has been phenomenal. To score so many runs and to do it so consistently is great," Bhutia told India Today in an exclusive chat.
The Sikkimese sniper, however, stopped short of comparing Kohli with batting great Sachin Tendulkar.
© India Today

"It would be unfair to compare him with Sachin Tendulkar. Tendulkar has achieved so much, he has created so many milestones. Kohli has become a brand, he is in his own territory," said Bhutia, a fan of action-packed Twenty20 cricket.

Speaking on what had been a good year for Indian sports, the 40-year-old chose PV Sindhu and Sakshi Malik's medal-winning feats at the Rio Olympics as his top picks. However, he said the performance at the Olympics could have been better.
"One of the good years in terms of Indian sports and football. Bengaluru FC reaching the finals of the AFC Cup is a great achievement. It would have been better if they had won it but to reach the finals itself is an achievement. Olympics performance was a bit disappointing... it could have been better. But two women athletes winning the medals was a great thing. Indian cricket team reaching the top of the Test rankings was expected. It didn't come as a surprise as they were performing well," he said.
Slideshow: Virat Kohli - On and off the cricket field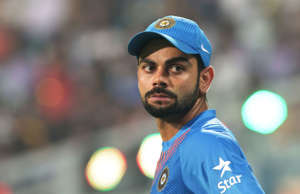 Bhutia, who has been one of the most recognised Indian footballers, was happy with the performance of the Indian football team, which achieved its highest annual ranking in six years after being placed 135th in the year-end list by football's governing body, FIFA.

"It was also a good year for Indian football team. Ending the year on 135 rank is a big improvement," he said.
Looking ahead at 2017, the former striker said it will be an important year for Indian football with the country scheduled to host the Under-17 FIFA World Cup.
"2017 will be an important year for Indian football. All our focus is on hosting the 2017 U-17 World Cup. If we can perform well in the tournament then I think it can't get better than that. We are prepared to host the tournament.
"All our venues are more or less complete. Home factor will be important for the Indian team. If they can upset a few teams in the group stages then it would be great," said Bhutia, who is the chairman of the All India Football federation's (AIFF) Technical, Coaching and Developmental Committee.
Watch: 'Kohli comes from an undiscovered planet'
More from India Today

India Today