Virat Kohli India's best in fourth innings battles

India Today
14-11-2016
Virat Kohli saved India embarrassment on the final day of the first Test of the five-match series against England in Rajkot.
While England set a target of 310 on the final day, Test captain Kohli remained unbeaten on 49, helping India manage to score 172/6 before both captains decided to shake hands and settle for a draw.
Interestingly, Kohli has a remarkable record in the fourth innings in Tests. Among all Indian batsmen, who have aggregated 500 or more runs in the fourth innings of a Test, Kohli has the highest average.
Kohli has overtaken legends like Sunil Gavaskar, Rahul Dravid, VVS Laxman, Sourav Ganguly and Sachin Tendulkar to hold the highest batting average at 65.27. He has made an appearance in only 15 fourth innings, nearly half of Gavaskar, who stands at second position with an average of 58.25 in the same category.
Take a look at how Kohli has fared in comparison to other legends:
4th innings heroes for India:
                        Inns Runs  Hs     Avg    100 50
Virat Kohli           15   718    141     65.27   2  4
Sunil Gavaskar    33  1398   221    58.25   4  8
Rahul Dravid       56 1552   103*  40.84   1   9
VVS Laxman       38  1095  103*  40.55    1  7
Sourav Ganguly  32  864   101*   37.56    1  3
Sachin Tendulkar 60 1625   136   36.93    3  7
The Delhi batsman has made a total of 718, which includes two hundreds - one in Wellington against New Zealand and the other in Adelaide against Australia. His score against Australia of 141 runs is also the highest among all batsmen in the fourth innings except Gavaskar's 221, a score he made at the Oval against England in August 1979.
© AP Photo

Despite good performers and talent in the Indian cricket team, there is still heavy relying on captain Kohli. His game-changing performances are the reason for the country's faith and over-dependence in him for victories. The year 2016 has been a remarkable year for the run-machine who became the only Indian captain to have scored a two double centuries in Tests.
Kohli's team will look to take revenge in the remaining four matches against England, scheduled to be held in Visakhapatnam, Mohali, Mumbai and Chennai. The next match will begin in Vizag on November 17.
Photos: Stunning cricket stadiums around the world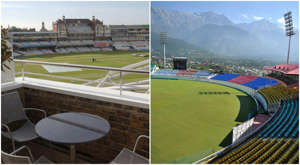 30 most beautiful cricket grounds in the world

Watch: When Shoaib bowled Sachin for a golden duck
More from India Today

India Today