Virat Kohli ready to bat at No.3 in Tests to accommodate Rohit Sharma

India Today
14-08-2016
Despite losing an entire day to rain, India cruised to a 237-run win over West Indies on the fifth day in the third Test to clinch the four-match series 2-0. Virat Kohli also became the first Indian captain to win two Tests in West Indies.

It was a commendable effort by the entire Indian team. It all started with Ravichandran Ashwin and Wriddhiman Saha hitting centuries to give India the edge and then Bhuvneshwar Kumar bagging a five-wicket haul to put the visitors in a commanding position.
The team selection irked many, with Murali Vijay not getting a look in despite being fit and Cheteshwar Pujara making way for Rohit Sharma. Umesh Yadav was also dropped to bring in Bhuvneshwar. However, Kohli's brave team selection didn't backfire and India eased to a massive win.
Slideshow: 25 cricket world records you must know about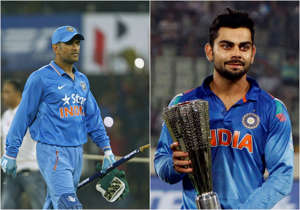 Rohit inclusion meant Kohli had to bat up the order at No. 3 and the captain said he "doesn't mind" batting in that position. Kohli has batted six times at this position and has struggled.

"We understood that a player like Rohit needs to be backed, and that meant that I had to go to No. 3. I would like to bat at No. 3. Rahane is solid for us at No. 4 and Rohit is dangerous at No. 5. I don't mind taking responsibility and batting ahead," Kohli said at the post match presentation ceremony.
KOHLI PRAISES ASHWIN, SAHA

"Ashwin has 4 hundreds and he has scored runs at important stages. Saha is such a nice guy and never has anything to say about anyone. Never cribs. Happy for him," Kohli said.
ON BHUVNESHWAR
"On a wicket like this, getting 5 wickets was commendable (from Bhuvneshwar). He showed that batsmen will make mistake if you hit consistent lengths. He didn't take pressure."
LESSON'S LEARNT
"We lost early wickets in this Test and we would like to change that - we will think on that. But I am being too critical at the moment."
More from India Today

India Today