Virat Kohli settles down as a Twenty20 giant

India Today
25-04-2016
Virat Kohli is a batting colossus. He is yet to complete eight full years in international cricket but the 27-year-old has achieved more than some of the greatest names in the history of the game.
Factor this. Kohli (25) already has more ODI hundreds than Sourav Ganguly and Brian Lara. He is primed to overtake Sanath Jayasuriya (28) and Ricky Ponting soon. Given Kohli's consistency, it would be safe to assume that these records will be broken before the end of next year. Next up, Sachin Tendulkar's 49 ODI hundreds could be under serious threat.
Kohli has not done badly in Test cricket either. After a shaky start, the Delhi run-machine has racked up 11 hundreds. He has scored runs in Australia, South Africa and on turning pitches in India. There are some grey areas for Kohli, no doubt. He struggled against the swinging delivery in England back in 2014 and stiffer tests await him when he tours the country in the future.
However, before the ordeal of swing and pace comes up again, Kohli has captured the imagination of a generation of fans around the world with his captivating stroke-play in T20 cricket. He admittedly is no big six-hitter like Chris Gayle, nor does he promise a frenetic strike-rate like AB de Villiers.
What Kohli does on the field is simple - he looks for the gaps, runs like a hare and is always a couple of steps ahead of the opposition. There is no other like him in modern-day cricket. The likes of Gayle, de Villiers, David Warner, Brendon McCullum take your breath away with their audacious, unorthodox stroke-play but Kohli does it the old, classical way.
The approach has paid rich dividends. Kohli started off 2016 with a bang, hammering 199 runs from three T20 games against Australia. He was then rested for the three-match series against Sri Lanka but came back firing on all cylinders once again in the Asia Cup, smashing 153 runs from four innings.
Kohli reserved his best for the ICC World Twenty20 and collected 273 runs at an average of 110. While the rest of the batting line-up struggled, Kohli held his own and brought Pakistan and Australia down on their knees . He was in top gear yet again against the West Indies but unfortunately, his unbeaten 89 in the semi-final counted for nothing.
After India's exit at the Wankhede Stadium, Kohli turned his attention to the Indian Premier League. After five matches, with scores of 75 (vs SRH), 79 (vs DD), 33 (vs MI), 80 (vs RPS), 100* (vs GL), he has amassed 367 runs at an average of 91.75. Kohli is sitting pretty on the top now, with David Warner at 294 runs a distant second. His hundred against Gujarat Lions last night was his first in T20 cricket. This has been a long time coming given his awe-inducing conversion rates in the other formats.
Kohli has so far scored 992 runs from 18 T20 matches thie year at an average of 110.20. Before the T20 madness began, he had hammered 381 runs from five ODIs against Australia, including two hundreds and two half-centuries.
Many feared a great vaccuum after Tendulkar's retirement in 2013 but Kohli has stepped into those big shoes admirably. After an ordinary 2015, Kohli is eager to turn a new leaf and this could be the year that could launch Kohli into the league of extraordinary gentlemen.
Eighteen years after Tendulkar's Desert Storm, India have found another man who will carry the burden of India's expectations, hopefully for another decade. Kohli's credentials as a batsman in one-day and Test cricket were already established but over the past four months, he has shown the willingness to stand out even in the shortest format.
Kohli, without a trace of doubt, is a new T20 giant, head and shoulders above the rest.
Slideshow: Rare photos of cricketers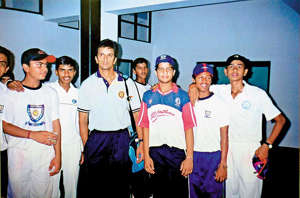 Rare photos of cricketers
More from India Today

India Today