Virat Kohli should be banned from playing cricket for lifetime: KRK in Twitter rant

The Indian Express
19-06-2017
Skipper Virat Kohli was removed by Mohammad Amir for five runs during India's chase against Pakistan in the final of the ICC Champions Trophy 2017 at the Oval on Sunday.
Complete coverage: ICC Champions Trophy
After winning the toss, Kohli asked Pakistan to bat first. Pakistan rode on Fakhar Zaman's century to score mammoth 338 runs at the cost of 4 wickets.
2)Virat Kohli should be banned from playing cricket for lifetime for selling pride of 130Cr Indians to Pakistan. He shud be behind the bars.

— KRK (@kamaalrkhan) June 18, 2017
Slideshow: India vs Pakistan — Match in pics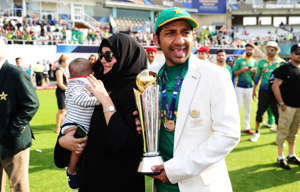 Responding to India's performance and Kohli's early return to pavilion, Bollywood actor Kamaal Rashid Khan posted some aggressive tweets about Indian team and went on to say that Virat Kohli should be banned from playing the game for life.
1)All the players of Indian team should be banned by govt from playing cricket coz they have sold themselves n pride of India. #IndVsPak

— KRK (@kamaalrkhan) June 18, 2017
3) Govt should revoke recognition of #BCCIPvtLtd who is fooling 130Cr Indians along with players n making crores of rupees by fixing matches

— KRK (@kamaalrkhan) June 18, 2017
Watch: Pak steamroll India to claim CT title
(Video provided by Times of India)
India began their chase in the most dismal fashion when they lost Rohit Sharma for a duck in the very first over while captain Kohli in the fourth. Pakistan kept picking wickets at equal intervals and reduced India to 54/5 at one stage.