Virat Kohli still struggling for answers in 'Testing' home conditions

India Today
01-10-2016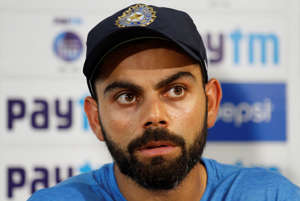 India captain Virat Kohli is going through a tough phase in Test cricket at the moment with a string of poor scores in the ongoing series against New Zealand on home soil. Coming in at No. 4, Kohli got out for 9 in India's first innings on the first day of the second Test being played at the Eden Gardens in Kolkata.
Kohli's form has suddenly dipped which goes to show that he is only human after all. His record in 2016 has been exceptional up until now and it seems that the pressure of leading his side in front of home crowd is taking its toll on his batting.
Kohli became the full-time Test captain with the Fatullah Test against Bangladesh in June 2015. Since then he has lead the team in 14 Tests and scored 734 runs at an average of 36.70 with two centuries and as many fifties to his name. His tally of runs during this time also includes the double hundred he scored against the West Indies in Antigua last month. Since then he has accumulated just 87 runs in six innings with scores of 44, 3, 4, 9, 18, 9.
KOHLI'S WORST STREAKS WITHOUT A FIFTY
July-August 2014: 10 innings, 134 runs at an average of 13.40 and a highest score of 39
August-December 2015: 8 innings, 161 runs at an average of 20.13 and a highest score of 44
July-September 2016: 6* innings, 87 runs at an average of 14.50 and a highest score of 44
November-December 2012: 6 innings, 85 runs at an average of 17.00 and a highest score of 20
KOHLI GETTING DISMISSED FOR UNDER-20
Before becoming full-time captain: 37.28 per cent
Since becoming full-time captain: 44.64 per cent
Interestingly, before taking over the captaincy from Mahendra Singh Dhoni, Kohli was averaging 46.30 with 2547 runs in 33 games including 10 hundreds and as many half-centuries. He was scoring fifty or more in every 2.95 innings. Since becoming the full-time captain, the frequency has increased to 5 innings for every score of 50 or more.
Slideshow: Virat Kohli - On and off the cricket field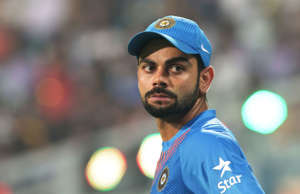 Kohli has built a reputation of being one of the best chasers in the game. His exploits while chasing a score in limited-overs cricket is well known by now and the pattern continues in the longest format. His average in the 1st and 3rd innings of a Test match are 31.48 and 24.10 respectively, while in 2nd and 4th innings averages are 70.68 and 60.81 respectively. He bats in a different level altogether when he has a target in sight. The last time he scored a fifty on home soil was against South Africa in the Freedom Series last year when he made 88 in the first Test of the four-match series at the Feroz Shah Kotla in New Delhi.

Repeated failures on home soil is frustrating not just for the player in question but also for the fans who come out in full support to watch their favourite batsman score big. While his captaincy has been highly impressive so far, the 27-year-old is facing one of the toughest challenges of his career with the bat. However, a champion player like Kohli is expected to overcome all these odds and roar back to form.
More from India Today

India Today