Virat Kohli takes a dig at England batsmen after James Anderson's controversial remark

India Today
12-12-2016
Virat Kohli on Monday talked about flaws in England's Test batting line-up a day after pacer James Anderson questioned the India captain's batting technique. Anderson had said that Kohli's technical flaws are not visible because of the helpful Indian tracks which lacked in pace and movement.
There were some visible tense moments on the field on the final morning when Anderson walked out to bat at the fall of England's ninth wicket. R Ashwin and Ravindra Jadeja immediately surrounded Anderson to give him an earful before the umpires intervened. Kohli was also seen calming tempers but he did not mince words in summing up England's abject batting performance.
Full scorecard: India vs England, 4th Test
"I think it's about the application. Their batsmen have hardly blocked six balls in-a-row and that's something that we have worked on..in our defence. Defence is a very important aspect in India, if you don't defend well, it is very difficult to counter the kind of bowling we have and we sensed that they don't have enough faith in the way they went about their business," Kohli, who has scored 2,580 runs in international cricket this year including three double centuries, said at the post-match presentation ceremony.
Kohli has already amassed 640 runs in the ongoing five-Test series at an average of 128 and has been instrumental in India's rise to the top of the world rankings.
Photos: 'Unique' world records held by Indian cricketers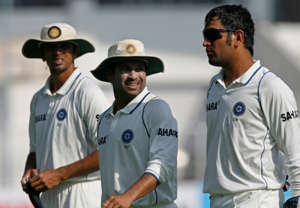 The 28-year-old, who scored his career-best 235 en route becoming the first captain ever to score double centuries in three consecutive series, further said India have really worked hard on their defence and they "thrive" on it.
"Even in the second innings, they played a lot of high risk shots and we knew it's just a matter of time before we get a couple of wickets and they will crumble down very quickly and they are not sure of taking the innings long. They just want to dominate and make runs. So, as soon as we plugged the boundaries, they literally had no way out because we knew our bowlers are very consistent and they are not so confident of their defence. That's been one difference I will say that we have worked a lot on our defence in India and we thrive on it, we enjoy defending balls rather than scoring runs. I think it's a difference in mindset as well," he said after India defeated England by an innings and 36 runs to capture their fifth successive series.
Anderson, who dismissed Kohli four times during India's Test series in England in 2014, had said that the India captain was not tested enough in home conditions.
---
---
"I am not sure if Virat Kohli has changed. I just think any technical deficiencies he has got are not in play out here. The wickets just take that out of the equation. There is not that pace in the wicket to get the nicks, like we did against him in England - with a bit more movement," said England's highest ever wicket-taker in Test matches. 

"When that (pace and movement) is not there, Kohli is very much suited to playing in these conditions. He is a very good player of spin - and if you are not bang on the money and don't take your chances, he will punish you," he added.
'ASHWIN WASN'T PLEASED'
Ashwin wasn't pleased with whatever Anderson had said in the press conference. Ashwin told me on the ground, obviously I had no clue about it. I didn't know what to make of it, I was laughing about it but Ashwin wasn't too impressed. He let him know, not using any bad words honestly. He told me he was pretty disappointed with what he had said and it's important to accept defeat. You know how Ashwin is. He's to the point, he can really strike you well and he doesn't need to say bad words, that's exactly what happened and later on I told James (Anderson) that it's fine and these things happen..so let's move on with it."
More from India Today

India Today