Virat Kohli, the warrior who was forever destined for greatness

India Today
21-05-2016
VIRAT Kohli. The name conjures up images of a warrior and a magician. In a sport where numbers tell the story, and his has been a jaw-dropping upwards spiral, Virat has been earning newer sobriquets to go with his new-found fascination for T-20 centuries, coming they are as easy for a man scything daisies. But nothing comes as a surprise for Harbhajan Singh for he really was the Man Who Saw Tomorrow.

WASN'T SO CONVINCED
Circa 2010, New Year's Eve in Cape Town. Going into the series deciding Test against South Africa, Harbhajan was gushing about Virat. "Paaji, I tell you, this boy can score 10,000 Test runs," he told me, "I would be very disappointed if he doesn't." Coming as it did much before Virat had even made his Test debut, I wasn't so convinced then.
Now I am. In fact Bhajji has just raised the bar. "Forget 10,000, Virat can even get 20,000 Test runs," Harbhajan tells me now, adding: "He can do anything. He wakes up each morning wanting to better his last knock and in the evening rattles off another century. He goes to bed with more resolve and the next day he actually betters himself. It's like hardwork+potential+dedication+resolve+hunger = Virat Kohli."
Sample the stats: Nobody has scored more runs in an IPL season than him this year, he's the only one to score four centuries in a season (before his side's last league game) and batting in an order sandwiched between the big six-hitting Chris Gayle and AB de Villiers, possibly the best batsman ever in shorter formats, Virat has held his own, overshadowing the two in every aspect - yes, including those big sixers.
HE WANTS TO BE THE HERO
Harbhajan, himself a veteran of 18 international seasons, reels off more secrets: "He is very confident. He always wants to go in first, rasing his hand everytime and saying 'I will do it, I will win games'. He wants to be the hero, any team, any format. The other batsmen also want to do well and win matches but Virat wants to do something extra. I am lucky to have seen from the dressing room Sachin Tendulkar intimidate bowlers and now Virat taking it to a different level. If people are comparing him to Tendulkar or Don Bradman there obviously will be a reason for that."
TENDULKAR-KOHLI COMPARISON
The moment Harbhajan speaks of Tendulkar, I probe him further. Okay, no comparisons with SRT but is the Virat of today alike the Tendulkar of '98 (remember the famous Sharjah Desertstorm?).
Bhajji says, "Tendulkar's batting in that series was simply out of the world as he was taking on the best bowlers in the world. And Virat is just the same like him, hitting sixers and boundaries at will, taking on fielders and challenging them to run twos. Virat is manipulating the bowlers and I can sense not too many want to bowl to him in this form. If he continues to bat like this, he will better all records."
THE F-WORD
Harbhajan then drops the F-word - "Fitness is the key. He is challenging all of them in the Indian team. I had put on some weight after my marriage and Virat really ticked me off in Bangladesh (Asia Cup). He told me it's not going to work with him and that I have to train harder. He charted my diet; what to eat and importantly what not to eat. I promised him that I will follow this regimen till I am playing but he didn't budge! He said, 'No, I want you to follow this till you are alive'. I am so happy as I have been training the way he advised me to for three months now and can see where he gets that positive energy and vibes from."
Slideshow: Virat Kohli - On and off the cricket field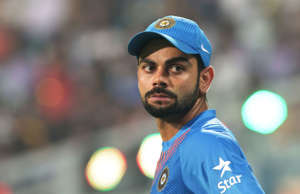 Watch: Virat Kohli evolving to be an incredible leader, says Shane Watson
More from India Today

India Today