Virat Kohli: The wizard of the chase

Wisden India
21-03-2016
To say that Virat Kohli has perfected the art of chasing in limited-overs cricket, and more specifically Twenty20 International cricket, is a bit like saying the sun rises in the east. That night follows day. That Sunday comes after Saturday. That you will find sand in the desert….
Greatness in any sphere, it has been said, is achieved by setting a goal for oneself, and relentlessly hunting it down. And then setting a newer, more demanding goal, and keeping one's tryst with that as well. Such is the nature of Kohli's vocation that targets are set by others; such is his virtuosity that, time after time, almost without fail, he achieves those targets with a felicity and an almost unerring regularity that sets him apart as the first among equals even in a cricketing world brimful of batting riches.
India's Test captain took many giant strides towards greatness at an ululating Eden Gardens on Saturday (March 19) night, treating the heaving, throbbing audience to an innings of such quality and authority that he had even seasoned pros like Sachin Tendulkar and Imran Khan eating out of his hands. Single-handedly, he converted a tricky run-chase filled with potential minefields on a dodgy surface to a stroll in the park, showcasing his mastery of Pakistan's multi-hued bowling attack with a commanding performance that is the domain of only the chosen few.
The more you think of it, the more you feel the stage was set for Kohli to weave his magic. The best creative artists paint their prettiest pictures on the widest of canvases, with a deftness and sureness of touch that stems from an inner, innate desire for excellence. Upwards of 61,000 awestruck fans at the venue, and millions others on television, gasped in wonderment at the manner in which Kohli shepherded India's chase of 119 from 18 overs in a must-win game in the ICC World T20 against a team that is, still, searching for its first victory over its arch-rival in a world cup showdown.
This wasn't a flat track where you could set stall and hit through the line. At various stages, survival appeared an almost impossible proposition as the ball fizzed and held up and turned and gripped the track. Kohli not merely survived but positively thrived as he effortlessly transformed a nervous, edgy, somewhat forlorn audience to a band of unalloyed worshippers, the Pied Piper of India producing such mellifluous music that he was bound to leave even acknowledged singers spellbound with his quality and mastery of his craft.
Saturday night's unbeaten 55 in India's six-wicket win is a long way short of Kohli's highest T20I score. But it came on cue, a sense of inevitability accompanying the wonderful compilation during which he might have taken no more than two – if that – false steps on a surface that seriously tested the technique and fortitude of nearly everyone else.
Clearly, Kohli was hurting from the loss to New Zealand in Nagpur on Tuesday last, when India failed to scale down New Zealand's 126 for 7. His own contribution had been a polished 23 before he played a loose stroke against Ish Sodhi to formalise India's abject surrender. At the Eden, India had reached 23 when they lost Shikhar Dhawan and Suresh Raina off successive deliveries to Mohammad Sami. 119 seemed several bridges too far, early elimination stared India in the face before Kohli took charge, first negotiating and then taming Pakistan in inimitable spectacular fashion.
"To see him, to do it in front of him and 90,000 people, it is not describable," Kohli was to say later, the him obviously being Tendulkar who, two and a half years after retirement, still evokes chants of 'Saaa-chin, Sachin' at every Indian venue. "Having a score on the board helps me calculate better – what needs to be done at what stage of the game."
The computer in Kohli's brain isn't just great at calculating, it is also wonderful at identifying areas of scoring and gaps in the field. It is not bad either while directing the hands and the feet and the bat to get into optimum position to find those gaps, to work out which are the safe, sure-fire scoring options and where there are runs to be had. If there is a better equipped batsman during a chase in international limited-overs cricket, he hasn't been sighted yet. It is unlikely he will be, either, any time soon.
Sample these numbers. In 18 innings chasing in T20Is, Kohli has made 836 runs at an astonishing 83.60; India have lost just four of those 18 games. He has nine half-centuries, and his three top scores are 78*, 72* and 70. He has remained undefeated eight times, and his lowest score while batting second is 21. On top of his game, did someone say?
At the Eden, while Kohli sparkled with his incandescent all-round strokeplay, his cover-driving especially was a thing of beauty, against pace and spin alike. There was one little three-over stretch when he drove Shahid Afridi twice through the covers, getting down low, breaking his wrists and guiding the ball with pin-point accuracy past the man in the infield, and between the two boundary-riders. In between those two strokes, he caressed Mohammad Amir also through covers, the bat flowing down like an extension of his arms, the ball hurtling to the rope as if doing its master's bidding. It wasn't just exhilarating, it was a sight for the gods.
"I think it's the hunger to perform, you know, that willingness to take up the challenge," Mahendra Singh Dhoni said of his exemplary deputy whose T20I scores this year alone read 90*, 59*, 50, 7, 49, 56*, 41*, 23 and 55*. "Different people look at the same thing in different ways. The famous example of half glass of water, you know, half full or half empty. I feel his biggest plus-point is he takes everything as a challenge, he wants to improve, he wants to contribute in each and every game, and that's what it's all about. Because he wants to contribute and score runs, he prepares well, he takes care of his fitness, he understands now how on different wickets he's supposed to bat and score runs.
"And we all know, once he gets going, once he gets a start, he always converts it into a big innings, which I feel is one of the most important things for any youngster coming into the game. When you're scoring runs, make sure you score a lot of runs, because everybody will go through a bad patch. What you have to do is try to minimise that duration (between failures); the best way is, when you're going through your purple patch, make sure you're scoring a lot of runs."
Shoaib Malik, the former Pakistan captain and his team's highest scorer on Saturday, was no less inhibited in his praise of Kohli. "He was the only difference between the two teams," Malik stressed. "He backs his skills and that's his key. He reads the situation well and he knows how to play on difficult tracks and flat tracks. He backs his skills, that's why he is very consistent. And I think you are the best coach for your own self – if you talk to yourself, you will have all the answers."
Whether he talks to himself or not, Kohli has all the answers, for now most certainly. Dhoni and his team are thankful for that. Not sure if India's opponents, current and future, share that sentiment.
Slideshow: Virat Kohli — Rare and unseen images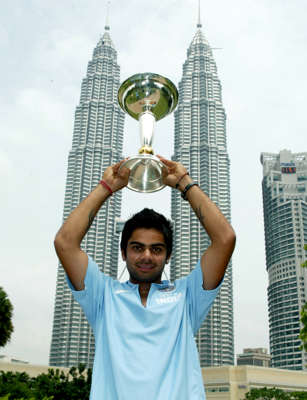 Watch: WT20: India beat Pakistan (by six wickets)