Virat Kohli unreal, superhuman and beyond comparison

India Today
20-05-2016
There came a time for every scribe when writing about Sachin Tendulkar became increasingly difficult. The Master Blaster, by the twilight of his career, had achieved everything humanly possible and then achieved some more.
Tendulkar's journey over a quarter of a century inspired some great copies but there were phases when we all drew a blank - what do you write about a man, who has turned up and scored with such gay abandon for 24 years?
Less than three years after Tendulkar retired from international cricket, most cricket writers are now drawing a blank again! What do you write about Virat Kohli that has not been written already?
Kohli has taken limited-overs batting to new heights. Thousands of runs, 25 hundreds, the sheer consistency - it has been unreal. And T20 cricket? They weren't supposed to be so consistent in that hit and miss format? Kohli, admittedly, was never a big-hitter, the big, towering sixes were not for him.
KOHLI IS UNREAL!
But Kohli has defied logic and laughed at the face of reason to hammer 1490 T20 runs from 26 matches this year. Of those 625, came in T20 Internationals, which included games against Australia and Pakistan. As many as 865 have come in the course of 13 IPL games, a record.
No other batsman has scored more in any single edition. No other batsman has scored four hundreds in a single T20 tournament. No other batsman has yet scored 4000 runs in the IPL. Virat Kohli is like no other batsman.
This is where the constant comparisons with Tendulkar need to stop. India, as a country, is obessed with comparisons. Tendulkar was compared to Gavaskar and now Kohli must be compared with Tendulkar.
Sunil Gavaskar shaped his era as did Sachin Tendulkar. It is now time for Virat Kohli to do just that. The 27-year-old is himself embarrassed with these parallels. Don't compare me with Sachin, I want to be myself, he pleaded recently.
STOP THE COMPARISONS
It is time for India to heed those words. Tendulkar was a giant - a hundred international hundreds, 200 Test matches, the most international runs, most one-day internationals and the first man to hit an ODI double hundred.
Kohli, by the looks of it, will break Tendulkar's records in ODIs, unless something goes wrong drastically. He will set his own records in T20 cricket that would be out of reach for several other men.
But there can be no comparisons. There are several reasons. Tendulkar faced a different breed of bowlers at a time when pitches were not this flat, and grounds were massive because T20 had not necessitated the shortening of boundaries.
The age of Tendulkar had taken the world by storm. The era of Kohli has the world gasping for breath. Sit back and enjoy the ride for Virat Kohli is superhuman and now well beyond comparison.
Slideshow: 25 things you should know about Virat Kohli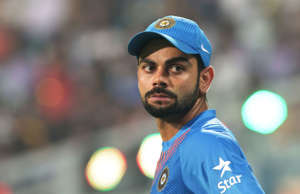 27 things you didn't know about Virat Kohli