Virat Kohli was born to lead India: Nine wins out of 16 Tests as skipper

India Today
04-10-2016
Led by Virat Kohli, India reclaimed the No. 1 spot in the International Cricket Council's Test rankings after crushing New Zealand by 178 runs at the Eden Gardens on Monday. In the process, India also took an invincible 2-0 lead in the three-Test series. Remember, India had also won the first match in Kanpur rather handsomely.
It was not just a special victory for India who won their historic 250th match at home, but also for Virat Kohli, who has reinstated with the win that he was born to be India's captain.
Kohli took over in 2014 under extraordinary circumstances. In December 2014, he led his first Test match against Australia in MS Dhoni's absence, scoring twin tons ( 115 and 141) as India nearly pulled off a sensational victory over the hosts at the Adelaide Oval. He was then named full-time Test captain after Dhoni's unexpected retirement before the final match of the four-Test series against the Aussies. Kohli marked the event with a fluent 147. Then a hundred followed immediately in Sri Lanka, albeit in a losing cause. By then, Kohli had hammered four hundreds in his first four Tests as India skipper. In just his 18th innings after taking charge, he reached 1000 runs as Test captain.
Kohli, in the post-Tendulkar era, is easily the most celebrated cricketer in the country. More importantly, Kohli has shouldered the responsibilities well. He has led India to nine victories in 16 Tests as captain and has scored five hundreds, including his maiden double ton (against the West Indies). There has been a slump in form since and Kohli has generally struggled to get going at home on turning pitches but his class and quality are beyond doubt.
India's most successful captains (in terms of wins):
                          M  W  L D Win%
MS Dhoni          60 27 18 15 45.00
Sourav Ganguly 49 21 13 15 42.86
Azharuddin       47 14 14 19 29.79
Virat Kohli         16   9   2  5 56.25
Tiger Pataudi    40   9 19 12 22.50
Sunil Gavaskar  47   9  8 30 19.15
Rahul Dravid     25   8  6 11 32.00
Kohli is well and truly on his way to becoming India's most successful Test captain ever. He is still some distance away from the 27 wins registered by MS Dhoni or the 21 victories achieved under Sourav Ganguly's leadership but the young Delhi ace is quickly catching up with Mohammad Azharuddin, who had overseen 14 victories in 47 Tests as captain. Kohli is already more successful (in terms of percentage) than MAK Pataudi and Sunil Gavaskar. In fact, Kohli has already overtaken Rahul Dravid, who had managed eight victories out of 25 Tests as captain.
Kohli's run as India captain has been spectacular. He is yet to lose a Test at home and has lost only two matches outside home from seemingly strong situations. On those two occasions, India simply did not roll over; they had fought hard but could not overcome the might of the hosts in conditions heavily suited to them.
Virat's record as Test captain:
               M W L D Win%
at home  6  5 0 1 83.33
away     10  4 2 4 40.00
overall   16  9 2 5 56.25
Known for his strict diet and disciplined fitness regimen, Kohli, helped India turn around their fortunes when it stood seventh in the ICC's Test rankings, a point below Sri Lanka in 2015. In little over a year under Kohli's shrewd leadership, India have bounced back to the top of the world.
Kohli is a leader of the masses. At the Eden Gardens, as his bowlers toiled away against the Black Caps, Kohli fired up the crowd to make some noise and put more pressure on the New Zealand line-up. His fitness mantras have been adopted in totality by the young players in the side. Kohli is well-respected across the board and he has also shed his overtly aggressive gestures on the field. He is today, a truly global sporting icon.
These are still early days for Kohli but it looks like the Delhi boy is well on his way to estabilish himself as one of the greatest leaders of all time.
Slideshow: Virat Kohli - On and off the cricket field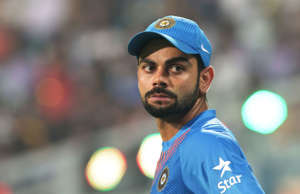 More from India Today

India Today