Virat Kohli will set records that don't think can be beaten: KL Rahul

India Today
24-12-2016
KL Rahul has emerged as a match-winning Test opener for India with his free flowing batting style. Rahul finished the year with a 199 in the Chennai Test win.
He talks to India Today in an exclusive interview looking back at India's unbeaten Test streak, Virat Kohli's captaincy and what lies ahead.
Q. Terrific finish to the year for the Indian Test team, Rahul. 4-0 against an England team that had it's moments in the series.
A. Yes. It's one series we were looking forward to. As a top class team we wanted to prove we can win in all conditions and surfaces. We won without having won tosses. Played against the odds and came back strong. It's was very satisfying for a young team to win with big margins. As the no.1 team this is what is expected from us. We also had great individual performances.
Q. What a phenomenal year and a half this team has had. No Test loss after Galle. Was the defeat to Sri Lanka last year a turning point?
A. Galle Test was the turning point. I remember after the Test we had a long chat where we sat together and discussed a lot of things. We chalked out a lot of things we needed to do to be successful. One was to be transparent and very open about each others thoughts and help each other. We will be faced with difficult situations but important not to get bogged down. To go out and express. We we sure we will play aggressively no matter what the situation. We wanted to be a tough team that would fight till the end.
We have proved in 12-24 months. We have won all and won easily as well despite being challenged. It's a great space to be in for the team. For now it's time to celebrate. We have some time off from Test cricket. When we resume we will look to start playing the same way.
Q. The team also addressed playing spin better. Thats also been an improvement from Galle.
A. A lot of work did go behind playing spin. Honestly we hadn't played spin bowling for the last couple of years, travelling abroad. It took us some time. We decided to be aggressive against spinners. We have grown up playing spin and played it all our lives. So we knew how to play Test bowling. It was just a matter of making the mental switch.
© Reuters

Q. The Chennai Test will be remembered for Karun's 300, Jadeja's 7 wickets and KL Rahul's run he missed that could have got him to 200. It's a cruel game sometimes?
A. Look it's a funny game. When I came back to playing Test cricket and got out for zero, people thought I was not the same guy. It was a tough time for me. I have to be grateful for the runs I have got. I have 199 reasons to smile. Just one run away from getting a double hundred. That's the way the game goes. You don't always get what you want.
I am happy that the 199 helped the team in registering one of the best victories we have had in the last 14 months. There was not a lot in the wicket. We were thinking runs for all four days. We wanted to win but did not know how we would do it. We wanted to fight it out. That's the thing about this team. I can say the Chennai win is right at top of the list.
Q. You had a boundary before the dismissal. What was it at 199, brain freeze?
A. You could say that. There are only a few times in a batsman's life when he gets really eager. When you want to get off the mark or when you are approaching 100 or 200. I was expecting him to pitch on middle or off stump not expecting he would bowl it so wide. I just let my bat go half way through the shot than I was trying to pull back but it was too late.
You learn from these mistakes. I am happy from the learning. The next time I got out to bat I will try to break Karun or Sehwag's record. Karun has set a very high benchmark in the team for us with his 300, his first hundred being a big one. Its good to have such competition in the team.
Slideshow: 27 cricket world records you must know about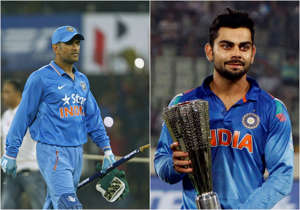 Q. This competition in the team is quite real. Karun despite his 300 is not guaranteed a place in the next Test.

A. We as a team wouldn't complain of such competition. It's very healthy competition. It's going to keep us going. Will make us working harder. We know we can't take our positions for granted. The kind of talent we have in the team and on the bench even those playing Ranji trophy, you will see people getting 1000 runs in a season double and triple hundreds. You do feel the competition and makes you work harder. We as players, coaches, selectors dont complain about such competition.
Q. One area the team has been unlucky with is injuries. That's meant an unsettled opening combination. Everyone from yourself, Vijay, Dhawan to Parthiv have opened.
A. The team is winning. We are the no.1 Test team. We haven't lost a test in a long time. So we are not complaining. It's a worry that the players are getting injured but it's up to us to take care of our bodies. And make sure we don't have to let somebody else have to do the job you have to do.
Watch: Virat Kohli makes 1K Test Runs in 2016
But you can't keep away from injury sometimes. It's good that there are opportunities and the best guy for the job gets to do it. The friendship and comeraderie in the team is excellent. We have never looked at each other as competition and looked as friends who are there to do the same job as you. We enjoy each other's success

Q. What's it been like working under captain Virat? Lots to learn?
A. Lot to learn from Virat. For him to go out with the same intent and dedication on field each time. He has been someone who may have got a double hundred and next day will come with the same intensity. That's the kind of leader he is. The kind of runs he has got, the way he leads has been phenomenal.
We have a lot to learn from him. We are happy to share dressing room with such a great player. He has been around for so many years but still has a lot of cricket let in him. One can only imagine him beating and setting records that don't think can be beaten.