Virat Kohli's dream run in 2016: 1940 international runs, 973 IPL runs

India Today
05-11-2016
First things first - Happy Birthday Virat Kohli!
Former India captain Sunil Gavaskar once said, "To become a good player, you need talent. But to become a great player, you need an attitude like Virat Kohli." Gavaskar is one of the all-time greats of the game and Kohli is heading in that direction at a rapid rate.
Many past and present cricketers regard him as the best batsman in the world right now. Media outlets like us are running out of adjectives to describe him and statisticians start working overtime whenever Kohli comes out to bat. At the age of 28 and just eight years into his international career, Kohli has achieved so much that we can't even dare to think of where he will reach once he calls time on his career.
The culmination of his hard work, hunger for runs and love for the game is bearing fruit and how. Kohli has been an unstoppable force in 2016 and he still has five more Test matches to go this year. The rate at which he has been scoring runs this year has been tremendous, to say the least.
England star Joe Root is the leading run-scorer in international cricket this year, followed by Kohli in second position. But it's the way Kohli scores his runs which makes him stand out from his competitors. Root's former teammate and England great Kevin Pietersen also says that even though Root has scored more runs than Kohli in 2016, there is still no comparison between the two as the Indian batsman has been way ahead in terms of his numbers.
"Kohli is as good as it gets. He is right up there. Root has good numbers, but it's unfair to even compare Joe with Virat because his numbers are just phenomenal," Pietersen was quoted as saying by 'The Cricketer' magazine.
Photos: Virat Kohli — The record breaker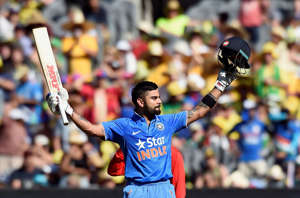 "He plays so aggressively - sometimes it's like - are you serious? The way he makes big runs for his team so often is just remarkable. His ODI record is a joke. Such an old head on young-ish shoulders," he added.
Kohli has treated himself to 1,940 runs in international cricket this year and 973 runs in the Indian Premier League. On top of that, he lead the Indian Test team to series wins against West Indies and New Zealand and single-handedly powered Royal Challengers Bangalore to the final of the IPL this season.
LIST OF RECORD FOR VIRAT KOHLI IN 2016
- Fastest to 25 ODI tons
- Fastest to 7,500 ODI runs
- Equals Sachin Tendulkar's (14) record of most hundreds in successful run chases
- Most runs in IPL in a single season - Most hundreds in IPL in a year
- Only Indian Test captain to score two double hundreds.
---
---
It would be safe to say that the 50-over format is Kohli's favourite in terms of the sheer number of runs he has scored in just 8 years. Kohli recently equalled Tendulkar's world record of scoring 14 tons in successful run chases when his unbeaten 154 guided India to a 7-wicket win over New Zealand in the third ODI at Mohali.

But the point to be noted here is that Tendulkar took 124 innings to score those many tons while Kohli did it in just 59 innings. At this age and at the peak of his career, Kohli has already scored 26 tons in 166 innings, the fastest by any batsman by a long way and is fourth on the list of players with most ODI centuries. He overtook Sri Lanka legend Kumar Sangakkara, who needed 404 matches to score 25 tons. Tendulkar had taken 247 innings to score 26 centuries.
Kohli has amassed 3514 runs in 58 innings in successful run-chases at an average of 90.10, which is also the highest for any batsman with over 2500 runs in successful chases. Where Kohli also has an advantage over Tendulkar is that he doesn't get out in the nervous nineties as frequently. Tendulkar was dismissed 17 times in the 90s in 452 innings whereas Kohli has only failed to score a ton four times when he's entered that stage in 166 innings.
Run-machine, chasemaster, leader and a global superstar - Kohli was born to bat and score runs. Whatever Virat Kohli has touched this year has turned into gold and we hope to see many more years like this from him. Once again, many many happy returns of the day!
Watch: Kohli is world's No. 1 batsman: Jonty Rhodes
Slideshow: Virat Kohli's Instagram diaries
Virat Kohli's Instagram diaries – topless selfie, rare family pictures
More from India Today

India Today