Virat Kohli's heartwarming message to Pakistan umpire Aleem Dar's son

The New Indian Express
28-07-2016
Virat Kohli is always considered as a sporting icon and an inspiration for budding cricketers.
The Indian Test skipper has not only won hearts within the country but has also found many admirers across the border.
Budding cricketer Hasan Dar, the son of renowned Pakistan umpire Aleem Dar had sent a video message to the charismatic cricketer who in-turn replied to the message in a motivational manner.
Full coverage: West Indies-India Test Series
In the 29-second video Kohli said, "Hello Hasan ji. I have received your video from your dad who is seated right next to me. Thank you so much. As you told it is true that hard work and dedication are very important aspects of life that leads to success. So when you continue working hard your cricketing skills will improve."
Kohli advised Hasan to believe in himself. He added, "Hopefully, we will catch up if you come on some tour when Aleem bhai is umpiring."
Kohli signed off promising the youngster by sending a signed bat. Kohli recently scored his first Test double-century to guide India to a comprehensive win over West Indies in the first Test match.
Photos: 26 things you should know about Virat Kohli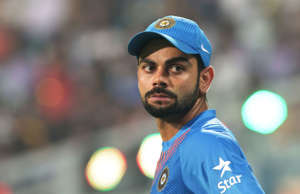 27 things you didn't know about Virat Kohli
More from Gadgets & Gizmos

The New Indian Express