Virat Kohli's Indian team on dry fruit diet, New Zealand cricketers gorge on biryani

India Today
24-09-2016
If Virat Kohli has his way, he will double up as Team India coach. Relax Anil Kumble, this has nothing to do with the cricketing stuff! It's just about Virat's fitness mantra for his teammates - the strict diet regimen that he follows and hopes other Indian cricketers follow too in his footsteps.

At Kanpur's biggest hotel, the chefs are busy preparing fat-free food for the Indian players and chicken tikkas, biryani and more mouth-watering dishes for New Zealand.
"I am flabbergasted, really," hotel's executive chef Narender Yadav tells India Today. "The Indian players want to have fat free-food and prefer Italian while the New Zealand team is bowled over by the Indian cuisine," he adds.
That the Indian skipper is a fitness freak is no secret. But, it seems Virat's healthy eating habits and lifestyle are fast becoming a rage with his fellow cricketers too.
"Kohli takes almonds, pistachios, cashew nuts apricots at breakfast. He loves his protein shakes after workouts. For lunch, which we have arranged for the team at the Green Park Stadium during the ongoing first Test, the menu includes grilled chicken, grilled fish, lamb chops and juices. One thing which I noticed was that Virat wants to have a lot of dry fruits. What we serve for the Indian team in dinner isn't different as most players follow the same diet," says Yadav.
Slideshow: 27 cricket world records you must know about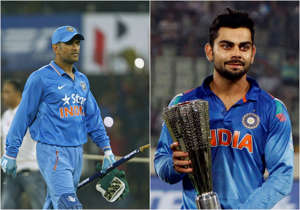 On the other hand, New Zealand's players are gorging on the Indian food served to them.

"The New Zealanders are eating Indian food like chicken korma, malai tikkas, biryanis, mutton rogan josh, seekh kababs and also oriental food like chicken chilli, fried rice and hakka noodles. I am very surprised," Yadav says as he instructs his team to be on their toes in the presence of local food inspectors in the hotel's ever busy kitchen.
The hotel got an advisory from the BCCI earlier in the month asking them to provide specific food for the Indian team during their stay for the first Test in Kanpur. All host associations for the series have been sent a similar communique.

Not just the hotel staff but many visitors are also surprised to see Indian cricketers avoid the much-famed Indian delicacies. "Me and my partner have been watching Indian and Kiwi players at breakfast since last couple of days. Indians seem to be very diet conscious. As tourists we were told different things about the Indian food, the recommendations were different. As even the hygiene standards are different than Europe, we were always worried about falling sick. Also, we used to wonder that what do the visiting teams have in India, do they bring their own cook and a dietician along or not. When they come to India, there is a lot of spice and a lot of strong flavours. If they get sick, their game is ruined, right? Really good to see that the Kiwis are enjoying the Indian food a lot, says Kate, a British fan of the Indian team.
Spinner Harbhajan Singh had earlier told India Today how his own eating habits have changed drastically after watching Virat's dietary chart and having "food and fitness" conversations with the Test skipper.