Virat Kohli's unimpressive run at home continues

India Today
23-09-2016
Virat Kohli has had a phenomenal run this year.
In January, he bludgeoned Australia, returned to the sub-continent to haunt Pakistan and by May, he had conquered the T20 format like no one else had. After a sensational run in the internationals, he smashed 973 runs in the Indian Premier League including four hundreds.
But that was not the end of a dream run. Kohli smashed his maiden first-class double hundred when he cracked 200 in the first Test against the West Indies. India won the series 2-0 to give him three back-to-back triumphs since taking over from MS Dhoni full-time at the start of 2015.
However, he will be worried with his recent home records in Test cricket. In fact over the last three years, since the four-Test series against Australia back in 2013, Kohli has scored 553 runs in 11 Tests (there's one innings still to go in the ongoing first Test against New Zealand) at an average of 39.5.
Slideshow: Virat Kohli - On and off the cricket field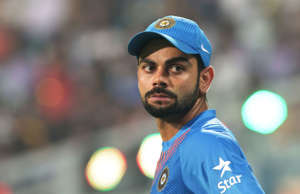 During the same phase, Kohli has met with staggering success overseas, hammering 1810 runs at an average of 50.2 including eight hundereds.

Interestingly, Kohli has 12 hundreds in his career overall and averages 45.06.
The sharp dip in Kohli's average at home is no secret. It was tough for batsmen against Australia in 2013 and he did not get to bat much against the West Indies a few months later because the Indian spinners were all over the visiting batsmen, ensuring innings victories inside three days

However, trouble started mounting on Kohli (as indeed on his other colleagues) during the four-Test series against South Africa last year. The pitches were absolute rank turners and the batsmen were stifled by some pretty accurate bowling. Like the others, Kohli, often acknowledged as the best batsman in the world, found his feet glued to the crease as Imran Tahir and Dane Piedt.
On Thursday, after India had opted to bat against New Zealand in the first of a three-Test series, India were well placed at 154/2 when Kohli walked in. The stage was set for him to fire on home soil - plenty of wickets in the bag and a solid score on the board.

The captain started off with a couple of boundaries but he fell to the trap set by Neil Wagner and Kane Williamson. Kohli, aggressive by instinct and nature, looked to pull one that was dug in short by Wagner - it was too close to pull and all Kohli could get was a top-edge which carried to Ish Sodhi at deep fine leg.
Kohli, like his other teammates, has shown suspect technique against spinners on surfaces that offer sharp turn. The Green Park pitch was easy paced and it was a great chance for Kohli to improve his recent record at home.
However, it is a long season and Kohli is too classy to keep missing out. There are 12 more Tests to be played at home over the next several months and it is unlikely that Kohli would continue to fail in conditions that are so familiar to him.
But his figures - home and away - are a telling reflection on modern day batsmen: they want the ball to come on the bat and prefer some pace off the surface - anything slightly more challenging and on the slower side catches even the best of them on the wrong foot.