Virat Taking Cue from Dhoni

The New Indian Express
08-12-2015
NEW DELHI: Following the footsteps of his predecessor Mahendra Singh Dhoni, Virat Kohli too loves 'facing' questions. Be it his relationship with Bollywood actor Anushka Sharma or backing the pitch controversy — Kohli has always expressed his thoughts.
Even though he 'ducks' questions on comparisons with Dhoni, those who know him for years agree the Delhi boy has 'picked up' a few things from Captain Cool. For many, Kohli's aggression, game reading and team spirit bring back memories of a young Dhoni, who in the early days of captaincy, was not hesitant even to take the quirkiest of the decisions.
So on Monday, when Kohli went on with Umesh Yadav and Ravichandran Ashwin to break the South African block-fest at the Feroz Shah Kotla, it was not really a surprise. That he introduced part-time bowlers Murali Vijay and Shikhar Dhawan too wasn't something new, because in the past, even Dhoni has rolled his arm over.
Perhaps, even he knows they both have a similar way of handling things, and that's why Kohli diverts the question on how his captaincy style is different from his predecessor, even without naming Dhoni. "I have my own style. That's exactly what happens when different individuals are captaining. Not as if it doesn't work. I don't think we should compare two individuals when they are playing for the same country," he says.
What remains unsaid is that the times with Dhoni has actually moulded captain Kohli. The same gentleman, who would lose his cool as the RCB captain in 2012, looked calm even when Hashim Amla and AB de Villiers refused to budge. Kohli professes patience: "When a team keeps winning, confidence automatically grows. Captaincy is not an easy job as you do have challenging situations. You have to maintain your focus, wait for that half chance, as too many changes send wrong message, you need to stay focused."
During his time, Dhoni too would slam critics for focusing more on the pitch than appreciating his team's performance. So does Kohli. "You watch something and you write an article. So when you ask a question on a specific issue, you will get a specific answer, but I have a way of explaining while giving an answer."
"We believe we can win against any opposition at any place in the world. Now how that will be presented (by you) is not in our control. We can only control our performance with the bat and the ball. We can't control what people hear and read," Kohli takes a dig at the media, with a smile on his face.
The comments clearly revive memories of quintessential Dhoni press conferences.
Slideshow: Virat Kohli — Rare and unseen images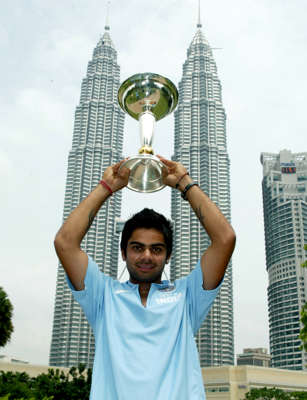 Virat Kohli: Rare and unseen images
More from Gadgets & Gizmos

The New Indian Express