Virender Sehwag Hits Six After Six On Twitter And We Can Barely Keep Up

NDTV
20-10-2016
Someone crown this man King of Twitter already. Former Indian opener Virender Sehwag may have stepped off the cricket pitch a while ago but he's bowling not just maidens but everybody over on his preferred playing field these days - Twitter.

Anyone who's following the cricket legend on the social networking site knows he's a funny guy. From cleverly-worded birthday wishes for pretty much everyone on the planet to hilarious observations about sports to skillful take downs, #ViruKaGyaan is supremely entertaining. And we really don't want to think about how empty our lives would be without it.
Here are some of Sehwag's best so far, starting with this priceless tweet he shared a few hours ago about his wife and marriage in general.
1. Nothing like explaining the complex concept of marriage than with a funny sports metaphor. 10 points to Viru!
With wife be like u r at non-striker end.Let her do the talking & run when you need to #mybestpartner#ViruKaGyaan pic.twitter.com/x8R2qZN7dF

— Virender Sehwag (@virendersehwag) 2 September 2016
2.This epic take down happened recently... Give that man (Piers Morgan) some water, cause that's gonna burrrrn!
We cherish every small happiness',
But Eng who invented Cricket,&yet2win a WC,still continue to playWC.Embarrassing? https://t.co/0mzP4Ro8H9

— Virender Sehwag (@virendersehwag) 24 August 2016
5. His tweet about female athletes and their success at the Olympics
Poora Bharat is baat ka Sakshi hai,jab koi bht mushkil ho toh is desh ki ladkiyan hi Malik hain.Thank U#SakshiMalik pic.twitter.com/YfHgRqxwTM

— Virender Sehwag (@virendersehwag) 18 August 2016
6. What he said when he met Olympic bronze medalist Sakshi Malik
Great meeting @SakshiMalik .She did not wrestle,and so I comfortably congratulated her for making the country proud. pic.twitter.com/n4JQBGxpVw

— Virender Sehwag (@virendersehwag) 26 August 2016
7. This lovely tweet about India's sweetheart Dipa Karmakar
Thank u #DipaKarmakar fr getting us united at midnight cheering fr Gymnastics,in a country with no infrastructure for this sport.Super Proud

— Virender Sehwag (@virendersehwag) 14 August 2016
9. When his Twitter and actual commentary during an India vs West Indies match won the Internet
Bhuvi, Badree, Narine ,players Se jyada lagta hai teerth jaane ka program ban raha hai,Now play Badree,Narine well.#IndvsWI #NarayanNarayan

— Virender Sehwag (@virendersehwag) 28 August 2016
10. And finally, when Viru Paaji tweeted this classic joke
Whoever wishes you with HBD HBD HBD on your birthday, just note their names and on their anniversary wish them HA HA HA#ViruKaGyaan

— Virender Sehwag (@virendersehwag) 17 August 2016
Slideshow: Most controversial statements by cricketers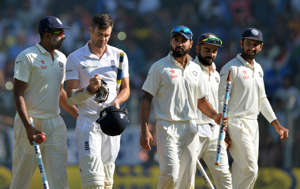 Watch: When Sehwag scored a century on Test debut