Virender Sehwag prefers non-striker's end in partnership with wife

India Today
02-09-2016
Former India batsman, Virender Sehwag, who never shied away from facing the first delivery even against some of the world's most fierce bowlers, has revealed that he would rather prefer to stay at the safe non-striker's end when it comes to partnering his wife.

Sharing a picture with wife, Aarti, Sehwag, who is known for his funny bone, jokingly said: "With wife be like you are at non-striker end. Let her do the talking and run when you need to."
Interestingly, Sehwag, one of the modern-era greats, spared none during his international career spanning 13 years, dominating the fiercest bowling attacks the world over.
During his career, Sehwag formed attacking opening partnerships with Sachin Tendulkar and Gautam Gambhir that took Indian cricket to greater heights.
The 37-year-old, who retired from international cricket in October last year, has scored 17253 runs in 104 Tests, 251 ODIs and 19 T20Is.
Sehwag excelled with a simple 'see ball, hit ball' approach and had a penchant for scoring runs through boundaries. He is the first and the only Indian batsman to score a Test triple hundred, not once but twice and also has an ODI double ton to his name.
After retirement, Sehwag turned into a Twitter celebrity and leaves his followers in splits with his funny birthday wishes and comments.
Photos: Cricketers and their superstitions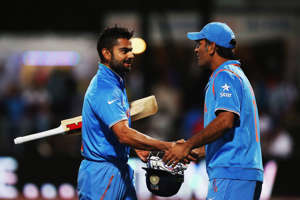 Good luck charms of cricketers

More from India Today

India Today