Want to master the art of picking five-wicket hauls: R Ashwin

India Today
25-10-2016
It was a conversation that had been long planned. Given India's rigorous schedule, we hadn't been able to settle on a date and time. Finally, with Ravichandran Ashwin rested from the current ODI series against New Zealand, it seemed the perfect moment to get him to open up on his own form, on Virat Kohli as skipper and Anil Kumble as coach and much more.
Back at the NCA after a few days of family time in Jaipur, Ashwin looked fresh and all keyed up to get back to action in the huge series coming up against England in a week and more.
"So did you manage to indulge yourself in Jaipur or were you still thinking of cricket?", I asked to start with. Ashwin, all smiles, gave me a very expected answer, "No I hardly indulged. So much so my wife now knows a lot much more about Test cricket than she ever knew." Typical Ashwin, I knew it would be a fun afternoon. With friends at the Ritz Carlton very kindly giving us a lot of Diwali mithai to dabble into, I knew this was my chance. Let me try a top spinner against the best off-spinner in the world. "Come on. For Diwali have a sweets for my viewers and I hope Virat is watching", I said. "Indeed I will," said Ashwin before going on to add, "I hope Virat doesn't see it you know. He just doesn't indulge and his self discipline is just incredible. He picks on what he eats, does performance training and is my role model in that sense." May be out of guilt or out of affection for his skipper, Ashwin went on to have half the mithai leaving the other half for me to polish off.
Photos: 25 world records held by Indians in Test cricket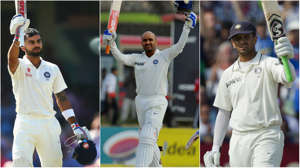 Inevitably the conversation turned to his form and his amazing feat of having picked up 220 wickets in 39 Tests. "I am bowling at my best. There is no doubt about that but can I do better is the question I keep asking myself. There is no end to improvement. But at the moment the ball is coming out nicely and I am feeling very good about bowling. I don't go into matches thinking I will win the game but surely if I don't pick 5 wickets for the team I feel a sense of disappointment.
"Just like Virat has mastered the art of scoring hundreds, I'd want to master the art of picking five-wicket hauls," he stated with a sense of resolve hardly seen in a performer. Clearly, he is in the zone of his life and in this form the world is his oyster. Having bonded brilliantly with Kumble, Ashwin, Virat and Anil perhaps constitute three of the most intense cricketers on the planet. "Even in a team dinner Anil bhai would discuss how to win the next game and frankly I don't mind it. Virat is very much the same and we just keep talking cricket all the time you know.
---
---
"Anil bhai is an example where you can take your game with determination and hard work and if I ever get to a position where I will cross 619 wickets I will perhaps decide to call it off as a mark of respect to him. He is a legend and deserves all the respect we can give him." 

I hadn't even noticed we had been talking for an hour and a half and it was getting time for Ashwin to go back to the NCA for one more session. There was no question of holding him back come the November 9 and we will want him in top form against Alastair Cook's England in what will surely be a grudge series. Can Ashwin get to 250 Test wickets by the end of it? At the rate he is going, he surely can. More importantly, if he does so India would have won yet another home series.
Watch: Virat Kohli's debut ODI innings
More from India Today

India Today