Warner, pacers sparkle as Hyderabad win first title

Wisden India
29-05-2016
The predicted thunderstorm mercifully stayed away; instead, an ululating, partisan gathering at the M Chinnaswamy Stadium was left drenched in a deluge of boundaries, most of them cascading off the massive willow of Chris Gayle.
The big Jamaican had had a quiet tournament, attracting more attention – and censure – for his controversial off-field comments than the lack of runs. Saving his best for the final of the Indian Premier League 2016, the giant Jamaican and Virat Kohli almost ensured that Royal Challengers Bangalore made a positively daunting target appear remarkably miniscule.
In a contest marked by brutal ball striking all the way through, Gayle towered head and shoulders above the rest. When he and Kohli were taking Sunrisers Hyderabad to the cleaners, 209 seemed tantalisingly close, but not for no reason are Hyderabad the best bowling side in the competition.
Once they sensed an opening after the dismissals of Gayle, Kohli and AB de Villiers, Hyderabad came roaring back, choking Bangalore to their doom with a wonderful exhibition of death bowling from Bhuvneshwar Kumar in particular, and Mustafizur Rahman, cleared fit to play the final.
As the packed house gradually lost its voice, Hyderabad grew in stature to eventually complete a memorable eight-run victory for their maiden IPL crown, Bangalore's initially bold but eventually spluttering reply coming to a juddering halt at 200 for 7.
David Warner had sprung a surprise at the toss, opting to bat first at a ground where the captain winning the toss has chosen to chase in each of the previous eight occasions this season. The Hyderabad skipper's decision was influenced by the desire to put runs on the board and allow his team's stronger suit, the bowling, to work its magic.
Sound in theory, Warner's decision seemed worth its weight in gold when, with the skipper again in the forefront, Yuvraj Singh turning the clock back in some style and Ben Cutting applying the brutal finishing touches, Hyderabad hared to 208 for 7, the highest total ever in an IPL final. Against any other team, that would perhaps have meant the game was over and done with as a contest at the break, but Bangalore aren't just any other side.
This is a side that has a batsman who has made a century in 15 overs. This is a side that amassed 248 in one innings this season. This is a side that, before the final, had topped 208 thrice in the last 15 games. How could this side be discounted?
It couldn't be. Not with Gayle muscling the ball to all parts of the park, and not with Kohli shrugging off his duck in Qualifier 1 with a knock that blossomed particularly after the departure of Gayle, who hit sixes for fun during the opening stand of 114 that came off only 63 deliveries. But cricket matches and IPL titles are not won on the back of pockets of brilliance. Hyderabad proved that pretty comprehensively.
The Universe Boss warmed up with a mistimed on-drive off Barinder Sran but after that, there was nothing wrong with his timing. He treated Bhuvneshwar with the respect he deserved, but took everyone else on, favouring no one bowler or no one part of the ground in particular as he left the raucous gathering eating out of his hands.
Kohli was content to sit back, enjoy and exhort as Sran, Cutting and Moises Henriques all went the distance – in all, he hit eight sixes and four fours – during Gayle's second half-century this campaign.
Having eased past 9000 career Twenty20 runs, Gayle appeared well on course for his 18th T20 century when Cutting ended the entertainment, eliciting a catch to deep third-man. A stunned second's silence gave way to unalloyed approbation, Gayle trudging off to a pat on the back from his skipper and a standing ovation.
Kohli had purred to 32 off 25 deliveries in the opening partnership, but shifted gears after Gayle fell, striking the ball as crisply as before but enjoying having a greater share of the strike as well. An inside-over cover-driven six off Sran took him to his seventh 50 in IPL 2016 – to go with four centuries – before he fell in the same over, charging and chopping the bowler on.
It was then that the game changed on its head. At that point, Bangalore needed a further 69 off 43 deliveries with de Villiers still in the middle, and a wealth of batting to follow. Having kept Bipul Sharma off the firing line, Warner had brought him on immediately after Gayle's departure, and the left-arm spinner elicited a rare poor shot from South African to set the cat among the pigeons.
Until then all but resigned to their fate, Hyderabad were now all over Bangalore like a bad rash. They knew that they had two of the best death bowlers in the business, each with two overs left to go, and that if they somehow kept the chase manageable till the start of the 17th, they were in with a shout. Cutting and Henriques did precisely that so that when Mustafizur and Bhuvneshwar returned for their final bursts, Bangalore needed 47 off the last four.
Sachin Baby hit out bravely, but Bangalore just didn't have the requisite firepower at the end, in direct contrast to Hyderabad's bowling riches at the death.
Hyderabad's evening had begun promisingly when, after a cautious start, Warner launched into a flurry of strokeplay. Kohli had done the expected by giving Gayle's offspin the new ball against Hyderabad's left-handed opening combine, and both Warner and Shikhar Dhawan played him watchfully. With S Arvind whizzing two past the bat in the first over and eight the first 15 deliveries not scored off, Hyderabad were only 27 from the first four when the tide turned in Watson's first over.
Warner started things off with a six over long-off and finished with a four behind point; in between, Dhawan smashed him for six too as 19 came off the over, and Hyderabad were suddenly up and running. The most consistent opening pair of the competition brought up its sixth half-century stand before Dhawan swept the impressive Yuzvendra Chahal to deep backward square, but Bangalore's woes were far from finished.
Continuing to blast away, Warner equalled the fastest fifty in an IPL final – off just 24 deliveries – as he topped a half-century for the ninth time this year and then allowed Yuvraj to put on an exhibition as he struck the ball crisply through the covers, or sweetly over the fence. Just when the third-wicket pair was threatening to take game totally beyond Bangalore's reach, Arvind struck in the first over of his second spell, having Warner caught off the edge at short third-man.
Deepak Hooda's poor run continued, Yuvraj was undone by one from Chris Jordan that stopped on him, and Naman Ojha was run out after a bad mix-up so that Hyderabad had not only lost three for 11 in eight deliveries, but almost the entire initiative.
Fortunately for them, Cutting took it upon himself to decimate the bowling. Watson, whose 61 runs was the most conceded by a bowler in an IPL final, was taken for two fours and a six in a 19th over that fetched 16, while Jordan's and the innings' last over produced three giant sixes including one that soared out of the ground over long-leg and was still miraculously measured at 117 metres.
Cutting provided the cutting edge Hyderabad so badly needed – 40 came off the last two overs as Bangalore came under the hammer. They seemed to have recovered from that pounding for the first two-thirds of their chase, but it was Hyderabad who laughed last, and best.
Slideshow: IPL — Top moments over the years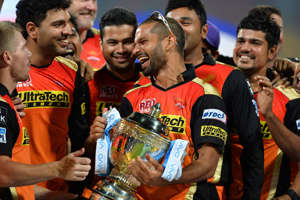 Unforgettable moments in IPL history — Presented by OPPO