Wasim Akram turns 50: A look at six of his most enduring records

India Today
03-06-2016
The Sultan of Swing has turned 50 today. It has been 13 years since Wasim Akram retired from international cricket but he still cherishes every moment he is involved with the game, be it as a commentator or as a coach
Deservedly, Akram woke up to an avalanche of birthday wishes this morning. He started the day by thanking his fans on Twitter.
In his heyday, Akram was batsman's nightmare. Even the best in the business could rarely get the better of the Pakistan pacer. The clip of India great Rahul Dravid struggling to put bat to ball against Akram tells us volumes about his bowling mastery.
Akram was tall, taller than his Asian counterparts and matched the West Indies pace greats not just with his height but also with the aggression and class. Akram deceived and set batsmen up with his incredible ability to swing the cherry both ways. He, along with his teammates Imran Khan and Waqar Younis, made life difficult for batsmen with their reverse-swinging toe-crushers.
A COMPLETE PACKAGE
Akram was a complete package. He had the variety that caught batsmen off guard. All this was coming from swift wrists that never divulged the seam to the batsman. Not just with the ball, Akram was a passable batsman too. On umpteen occasions, he has chipped in with the bat for Pakistan as well. The left-handed all-rounder has 2898 Test, 3717 ODI runs against his name.
Akram carried forward the pace-bowling legacy of Imran Khan and Sarfraz Nawaz and also borne the burden of captaincy after Khan's days. He led Pakistan to Test Championship title in the inaugural edition (1999) and had won 12 of the 25 matches he skipper the team.
His impact in world cricket is phenomenal. Any promising left-arm pacer is will be asked about emulating Akram. Many have tried but not many have even remotely come close to achieving benchmark set by the Pakistan pacer.
Akram, now, is one of the most revered cricket commentators in Asia. Also, he has found tremendous success in his second innings as coaching staff. Akram was part of the support staff when Indian Premier League team Kolkata Knight Riders lifted the trophy in 2012 and in 2014. He was appointed as director of Pakistan Super League team Islamabad United in the inaugural edition of the tournament. And guess what, Akram as team director tasted success as the Misbah-ul-Haq-led team clinched glory in the recently concluded season.
On his 50th birthday, here's a look at some of the staggering records set by Akram.
1. Akram had never played first-class cricket before making his debut for Pakistan against New Zealand in November 1984. Kudos to the then Pakistan selectors who got him in the team.
2. Akram sealed the top-spot in Wisden's all-time ODI bowlers list. With 1223.5 points, he edged past South Africa's Alan Donald and compatriot Waqar Younis. The Pakistan great is also widely regarded as the best left-arm pacer in international cricket.
3. Akram's unbeaten 257 against Zimbabwe in 1996 is the highest by a No 8 batsman in Tests. With the same knock, he created another record by slamming the most number of sixes (12) in a Test innings. Given the reduced ground sizes and longer bats, Akram still holding to the record is a phenomenal feat.
4. Akram is the only bowler to have taken four international hat-tricks - two in ODIs and two in Tests. His ODI hat-tricks came in a span of two years - the first one against West Indies in 1989 and the second against Australia in 1990. Notably, Akram hit the timber on all six occasions.
5. Akram was the first ODI bowler to get to 500 wickets. He stayed on top of the bowling charts for six years until Sri Lanka spinner Muttiah Muralitharan went past him. With 502 wickets from 356 matches, Akram is second on the list.
Slideshow: Rare photos of cricketers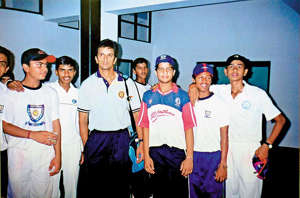 Rare photos of cricketers
More from India Today

India Today