Wasim and Hasan set up Pakistan win in the rain

Wisden India
07-06-2017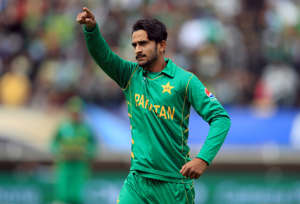 © Getty Images The Champions Trophy 2017, pitting the top eight One-Day International sides against each other, should produce a slew of thrilling finishes in theory, since teams are so evenly matched. Until Wednesday (June 7), though, the dominant theme has been rain and one-sided finishes.
It needed the mercurial spirit of Pakistan and the never-say-die attitude of South Africa to give the tournament its first properly close match, though even here rain had the final say. Having kept South Africa to 219 for 8 at Edgbaston in Birmingham, Pakistan had reached 119 for 3 in 27 overs, with 101 required from 23 overs, when the rain became too hard to continue play. The DLS par score was 100, and with no further play possible, Pakistan were winners by 19 runs in a match that showed just how thrilling and intense low-scoring ODIs could be.
Pakistan vs South Africa: Full scorecard
South Africa will feel hard done by, given that a couple of wickets could have vastly changed the complexion of the game, but in the 77 overs that had been played, Pakistan were the better side, if only by a small margin. The result threw Group B wide open, with neither side out of the running for the semifinals. There could be a situation where all of South Africa, Pakistan and Sri Lanka are tied on two points too, which would bring net run-rates into play. Alternately, even three sides could be tied on four points.
On the day, Pakistan deserved their hard-won two points. The team that took the field seemed a transformed unit from the one that was shellacked by India on Sunday. The bowling was intense, the fielding electric, and the batting sensible for large parts.
After opting to bat, South Africa were carried by David Miller's 75 not out off 104 balls after Imad Wasim (2 for 20 in eight overs) and Hasan Ali (3 for 24 in eight overs) had reduced them to 118 for 6 in 29 overs. But two lower-order partnerships – 47 between Miller and Chris Morris followed by 48 between Miller and Kagiso Rabada – provided some stability to South Africa. They had begun reasonably well, with Quinton de Kock and Hashim Amla putting on 40 runs in 8.2 overs before both fell lbw.
The key moment of the innings was AB de Villiers falling for his first-ever golden duck in ODIs, slashing Wasim straight to point. His wicket was part of a sequence in which South Africa collapsed from 60 for 1, losing five more wickets for the addition of 58 runs in 15.1 overs, until Miller and the lower order did the best resurrection job they could. Miller couldn't be his normal boundary-blasting self partly due to the situation of the match and partly due to the quality and intensity Pakistan's bowlers maintained, but he did his job well.
Champions Trophy 2017: Full Coverage
This was the third match played on this pitch in less than a week, and perhaps that played a part in the ball coming on slower than it had for the other two games, with the surface appearing sluggish. There was nothing tired about Pakistan, though. They had replaced the injured Wahab Riaz with Junaid Khan, while Fakhar Zaman was handed an ODI debut in place of Ahmed Shehzad. But it looked like the entire XI had undergone a change, because the side that turned up was so markedly different from the one that took the field against India.
During the rebuilding stand of Miller and Morris, the two stayed together for 13.3 overs. But despite both being renowned hitters, the only boundary during that entire association was a swept four by Morris, so little did Pakistan give away. Junaid and Mohammad Amir nailed their yorkers over after over to keep the pressure up. Eventually, a few balls found their way to the fence or over it only from the 48th over onwards.
Pakistan had shown how quality bowling could keep batsmen on the back foot, and South Africa intended to replicate just that while defending a below-par total. What made the difference in keeping Pakistan ahead, in the match in a cricketing sense and on DLS, was the nous they showed. Zaman made people wonder why he hadn't been picked against India, getting hold of Wayne Parnell in particular. Zaman smacked six fours in a 23-ball 31 that got Pakistan off to a flier. Clouds had always been threatening, so Zaman's approach meant Pakistan could ease up when the inevitable wobble came. It arrived in the form of Morne Morkel (3 for 18 in seven overs), who took out both Zaman and Azhar Ali, the other opener, in the eighth over. But because of Zaman's quick scoring in the face of a low target, Mohammad Hafeez and Babar Azam could afford to take as much time as they wanted. The duo played out three maidens to start with, but crucially, didn't get separated.
Most controversial statements by cricketers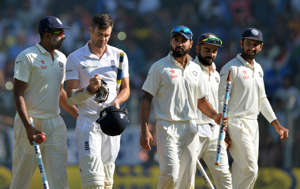 By the time the DLS target had started to catch up with Pakistan, they were set, and a couple of well-timed – in every sense of the word – boundaries eased the pressure. But after batting so sensibly for so long, Hafeez threw it away, pulling Morkel to fine leg where Imran Tahir took a tumbling catch. At 93 for 3 in 23.2 overs, the match was back on even keel, which was when Shoaib Malik's vast experience came to the fore.
Malik took little time to get into his stride, just like he had against India, but this time he didn't throw his wicket away. He latched on to the inevitable odd loose ball, and was on 16 not out off 14 when the players were forced off the field. In the context of the match, it was an invaluable cameo. It also gave Pakistan the breathing space they needed on the DLS table, since they had pulled enough ahead that even losing a wicket would keep their noses in front.
Had the match gone to its full conclusion, it could have well turned into a classic. As it was, even the rain-shortened match provided the most drama this tournament has seen yet.