What's the secret of your energy?

Wisden India
11-07-2016
You know the type. They're the people who swear by a certain food or beverage. You privately wonder if it's an elixir of some sort, containing magical properties. Not unlike Popeye and his spinach. It's always something annoyingly healthy. Some even claim it is the secret of their energy. And who are you to argue when it seems to be working for them? Wisden India looks at ten cricketers and their choice of sustenance:
Sachin Tendulkar and Boost
© IANS Photo What's the secret of your energy?
Nowadays, you see celebrities promoting everything from a particular shampoo to a bag of chips. Of course, no one really believes that they use the product. But when Tendulkar made his first appearance in a Boost commercial in 1989 — his first brand endorsement — it was easy to imagine that this scrawny 16-year-old was able to stand up to bowlers much older and experienced than him all because of a malt-based nutritional drink. And kids everywhere began raising their cups and repeating the famous catchphrase, feeling they too could conquer the world like their hero.

Peter Siddle and bananas
It's been said many times that the key to being a fast bowler is eating red meat and lots of it; tofu lovers don't stand a chance. The myth, however, was busted when Siddle made a switch to an all-vegan diet, advocated by his partner Anna Weatherlake, in November 2012, and the results were there for all to see. He lost eight kilos, found that his recovery time had halved and had a healthy glow. But it was Siddle's going bananas for … well, bananas that made the headlines. He downs a whopping 15-20 per day along with some coconut water and could probably summon Captain Planet, for all we know.
MS Dhoni and milk
In his fifth match for India, a One-Day International in Visakhapatnam in 2005, Dhoni hit 148 and became an overnight sensation. It wasn't long before people were clamouring to know what was his secret. The answer was simple, much like Dhoni himself: milk. Four litres per day was the rumour, but he later clarified that the answer is closer to one litre of buffalo milk. Though he shifted to milkshakes later, Dhoni explained he always get his daily quota. Fighting bowlers by day and osteoporosis by night, what's not to like?
Rohit Sharma and eggs
You don't hit two double-hundreds in ODIs without some sort of magic power. For Rohit, it was eggs by the dozens. Remember the scene in Rocky, where he wakes up at some ungodly hour and chugs down five raw eggs? Well, Rohit, despite belonging to a vegetarian family, once had 25 in one go. They probably weren't raw, but it's nonetheless impressive. It's baffled many why he's not able to replicate his ODI form in Tests, but increasing his egg intake could very well be the answer.
Morne Morkel and green smoothies
Averaging higher on the speed gun than Dale Steyn is no mean feat, and it's a greener lifestyle has been one of the reasons behind Morkel's success. Roz Kelly, his partner and a friend of Siddle's partner Weatherlake, is a holistic health and wellness coach and it wasn't long before she inspired Morkel. He still eats meat, but has cut down his sugar intake, replacing fizzy drinks with green smoothies. Bowling wise, it's translated to quicker and longer spells so it's been win-win.
Marcus Trescothick and sausage
The nickname "Banger" might suggest a propensity to hit in boundaries, but it was actually a reference to Trescothick's fondness for sausage. In his autobiography, Trescothick mentions his diet in his junior cricket consisted of "sausages, chips, sausages, toast, sausages, baked beans, sausages, cheese, sausages, eggs, sausages and the occasional sausage thrown in, topped off with a sprinkling of sausage." Still a better love story than Twilight.
Abdul Razzaq and spinach
He actually is cricket's answer to Popeye. After experiencing dizziness during a tour of New Zealand in 2004, Razzaq was advised by a medical guru to go on a spinach diet. So, wherever he went, he insisted on spinach, and his team-mates began to call him Popeye the Sailor Man as well. Later, he suffered a mysterious illness during the Melbourne Test against Australia in 2005 and people were quick to blame the leafy green veggies, but a physiotherapist indicated that wasn't the cause. As one of four cricketers to achieve the double of 5000 runs and 250 wickets in ODIs, spinach has clearly done a world of good for Razzaq.
Brett Lee and Weet-Bix
It was no fluke that Lee became one of the fastest bowlers in international cricket. He was a Weet-Bix kid, after all. His love for the malty, wholegrain wheat cereal, the official breakfast of world champions Australia, wasn't just for the cameras — Lee really did do seven a day. Aside from helping him "take five wickets, yeah, maybe even more", it was also the reason he and fellow Weet-Bix kid Tim Cahill were able to save the Earth from an asteroid. Now, who else can say that?
Jack Russell and tea
Eccentric was a word often used to describe Russell as he made many obsessive compulsive tendencies. But, as Aristotle said, no great genius has ever existed without some touch of madness. Russell was very particular when it came to his culinary habits. Aside from eating two Weet-Bix for lunch, soaked in milk for exactly eight minutes, and a mashed banana, he was known to drink 20 cups of tea every day. According to team-mates, Russell would then dip the tea bag just once in milk and then use the same bag for the entire duration of a Test, or roughly 100 cups of tea. Weet-Bix, banana, milk, and tea — he left nothing to chance when he took the field.
Glenn McGrath and fried egg on toast
Consistency was the hallmark of McGrath's career. But it wasn't just in his bowling, Steve Waugh noted McGrath was a creature of habit, always eating the same thing for breakfast every morning on tour: "He places his two fried eggs on separate pieces of white toast before making sure the yolk is perfectly positioned in the middle, before trimming the overhanging egg white edges with surgical precision. The contents are then cut into quarters after being doused with a three-second barrage of salt." This attention to detail and innate sense of discipline, no doubt, led to him becoming one of the greats of the game.
---
---
Slideshow: Rare photos of cricketers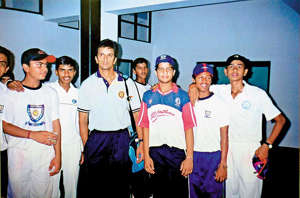 Rare photos of cricketers