What happens when Virat Kohli walks out to bat in an Indian stadium?

India Today
29-11-2016
Parthiv Patel, on his return to the Indian Test team after eight years, had kept wickets for 94 overs and then scored a gritty 42 to lead India's response to England's 283 in Mohali.
Patel was dismissed after 26 overs of resilience and old school grit. For connoisseurs of Test cricket, it was almost heartbreaking. A special innings was in the making, India was en route a strong platform and a great comeback was being scripted.
For, the fall of the second Indian wicket in Test cricket can only one thing in the post - Sachin Tendulkar era: it's Virat Kohli's turn to bat.
And when Kohli walks out to bat at home, the ground erupts. Who cares what Patel did or how many he got or how stirring his comeback story could have been? Even before the Gujarat southpaw had walked out of the field, chants of 'Kohli, Kohli' filled the stadium.
From my North Side seat, I saw Kohli emerge from the dressing-room and a cacophony of noises filled every aisle of the PCA Stadium, basking under the winter sun. The ground has been sparsely populated for a Test match with so many twists and turns but the decibel levels early Sunday afternoon would have told you a different story.
Only one man commanded such heights of anticipation from Indian crowds and for a quarter of a century his presence at the crease after the fall of a wicket sent fans into delirious frenzy.
Kohli has started to attract such manic attention in a very brief period. Trumpets were blaring, even before the captain had faced his first ball, there were demands of a hundred. Some wanted a six, some wanted a rapid fifty, a group of girls wanted Kohli to wave at them even as he marked his guard!
A harried English supporter, part of the Barmy Army, complained after he took his seat next to me: outside at the cafeteria, when word spread Kohli was making his way to the crease, a group of Indian fans dashed for their stand and in the process, tipped his cuppa.
It was Mohali and they had come to see their own Punjabi moonda put on a show. And a show he did put on. With Cheteshwar Pujara, Kohli added crucial runs for the third wicket and put India in command before a middle order wobble.
Kohli's stylish 62 was enough to satiate the demanding thousands but there was a hushed silence when Ben Stokes cut him down towards the end of the second day.
Many left in disgust but others hung on with a hope of an encore. The Kohli magic has to be felt with his fans for company.
Slideshow: Virat Kohli - On and off the cricket field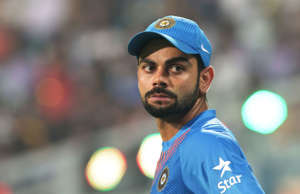 Watch: 'India now have a reliable all-rounder in Ashwin'
More from India Today

India Today