What's the one thing R Ashwin's mother doesn't like about her son?

India Today
25-02-2017
The fame and adulation which the Indian cricketers enjoy in the country is unparalleled which is why the players try to give back some of the love by connecting with their fans and followers on social media platforms, signing autographs and clicking selfies with them whenever possible.
Before and after every match the players have to also fulfil some of the commitments for the Board of Control for Cricket in India (BCCI) like signing on stickers, match tickets and other items which are then distributed among the fans.
Even though they adore their fans, most cricketers don't really enjoy the process of signing on hundreds of stickers after spending a gruelling day on the field.
In a recent video posted by the BCCI, cricketers Jayant Yadav, Ravichandran Ashwin and Ajinkya Rahane reveal how they have different signatures for different items and that some of them don't have good handwriting which makes it difficult to read their signatures.
In the video Jayant, Ashwin and Rahane can be seen signing against their names on the BCCI stickers. While Jayant never practiced his autograph and makes circles around his name, Ashwin goes on to reveal that his poor handwriting skills led to his mother not allowing him to sign on cheques.
They may be world class cricketers and part of the No. 1 ranked team in the world but they fail miserably when it comes to their handwriting.
Well, as long as they keep winning matches on the cricket field nobody really cares how their autograph looks like.
---
---
Cricketers and their superstitions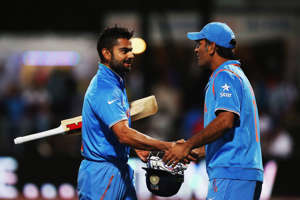 Good luck charms of cricketers

Watch: 'Kapil Dev was India's greatest match-winner'
More from India Today

India Today